December 31st, 2011
(…cont.)
Wednesday, my last full day in PR, in the morning Reagan and i went horseback riding on the beach, where i learned i'm not as scared of horses as i thought it was. in fact, i'd maybe like to learn to ride one FAST.
after lunch, we went back down to the beach and went surfing. i was not nearly as successful as the first time (trying too hard then, i suppose) and tired myself out quite a bit paddling, falling, paddling, falling. the waves started to get bigger and one came up and reagan said watch out this one's breaking! but it turned out that i was at just the right spot and it just lifted me up and off i went. as soon as i realized i'd caught it/it caught me, i stood up. woo! after that, my shoulder was really starting to hurt from all the paddling and so i called it a day. later we went back to the beach again and watched the sunset and had some last evening cocktails.
Thursday morning we got up early and went to have 8am breakfast at this charming english B&B on top of a hill overlooking the ocean before i had to go to the airport. it was really gorgeous, but i was *so exhausted* i could barely think. this doesn't happen to me much – usually once i'm up i'm up, even if i haven't slept, but i just couldn't wake up for a couple of hours. so tired from all the frolicking in the sun the day before.
then off to the airport, but by then i was awake and no sleep on the plane. jay, who had been in NY since Tuesday, was so sweet and came to meet me at JFK. we got back to brooklyn late afternoon, settled ourselves, and then met up with peoples for dinner at a delicious veg restaurant Angelica Kitchen (where the waiter recognized me as he also works at another vegan restaurant i'd been to last week. tour de vegan restaurants NYC!) and then drinks and then late night endless bantering until 3am and finally crashed.
i tried to sleep in Friday but it didn't work and i was up first at 8 and then at 10. Jay, Chris and I got up, had breakfast, and headed to the New Museum, which was underwhelming. i love participatory art, but the place was jammed, being a Friday and a holiday weekend, and so we weren't able to really do all the things in the time we had. but even if we could….some of the things were broken/not available, and some were just…..? i don't find tunnels made out of blank white styrofoam very impressive conceptually or aesthetically. i think Burning Man has ruined me ever enjoying that kind of art in such a sterile environment ever again.  don't touch! stand in line! sign this waiver! oh and it doesn't *really* work! anyway, there was also an exhibit about conflicts surrounding censorship of Lebanese art that was much more interesting.
after the museum, Chris took off and Wiley joined us for happy hour, and then we headed up to Central Park to go ice skating. upon arrival, however, it was obvious that ice skating among the crowds would not be pleasurable. so we wandered through the park in the dark instead, came out on the other side and found ourselves some cappuccino.
at this point in the evening, it would have been smart to go back to bklyn and take a nap, as we had 2 events to attend Friday night. however, the travel and logistics were such that it would be much easier if we just went to the first one directly, and so we opted to have dinner out instead at superfine and then head to the party. but at some point during dinner i started to crash in an irritable way. i drank a 5-hour energy but basically once we got to the first party i went directly to the couch and stayed there, eyes closed (but enjoying the eclectic live music) until we left at midnight.
at midnight we went back over to the Lower East Side to see friends Stuart Bogie and Colin Stetson (of Transmission fame – you know, that band from ann arbor ->SF that we saw triple-digit times in 2000-2003?) play in a newer band formation, Superhuman Happiness at the Cake Shop on Ludlow. now, when Stuart told me about it, he said it was a Phish afterparty. generally, despite the fact that we were avid fans/phans of both during the exact same years (early 2000s), the worlds of Transmission jazz and Phish have i think never really intersected for us and so i wondered how this mashup of scenes was going to be. but i trust their musical judgement completely, and so we went. through the pre-NYE wasted crowds into a hot crowded basement we went, just as they were about to go on.
(historical aside:  in May 2001, we came to NYC and a phishhead friend told us to go see Antibalas, which was playing in a basement of a jewish cultural center somewhere.  we arrived, and just after the band started playing, Stuart Bogie walked out and joined them. it was very……serendipitous.  so going to see him play again, in some dark basement somewhere in NYC, 10+ years later, was just kind of awesome.)
and when it started….it became very obvious that this was indeed a Phish afterparty. lots of phisheads, still with their glow bracelets and rolling eyes were packed inside. the music was definitely more indie-jam than jazz, with lots of melodic singing mixed with funked beats, which i can totally appreciate, especially watching them play so physically, so ecstatically, but i was so exhausted i just found myself a spot standing on a bench up against the wall, my head almost hitting the ceiling, observant. i wanted to make it to the end of the set to get to hang out, but just couldn't. it was a sauna in there, i was wearing 2 layers of clothes, and the energy was so the opposite of where i needed to be. so in the middle of a cover of Sledgehammer (covers? did not expect that), we exited into the cold night and finally headed to bed at 3am, totally exhausted.
i was also not successful sleeping in more today, and right now as i'm typing this i should be trying to take a nap before heading out for NYE, but NYC makes me manic.  and plus, it's the LAST DAY OF 2011 and i get to see many of our beautiful friends tonight!  how could i not be excited? we have 2+ parties on the list and we'll see how far we get.
.::.
i'm looking forward to seeing the sun come up on 2012, as 2011 – full of personal and global/internal and external revolutions, experiments and changes – has been a one hell of a good year.  keep up the good, everyone. we're moving forward.
me and the sunset in puerto rico, christmas eve 2011, photo by justin silver
Filed in autobiographical, music, travel | Tagged with igottawearshades, jazz, NYC, puerto rico, reagan, surfing | Comment (0)
December 27th, 2011
yes, i have been on vacation for 9 days and i have not blogged a thing about it.  isn't that what vacation is for? not doing what you don't feel like?
first i was in new york for 4.5 days, and while i had intentions of sitting in coffee shops on snowy afternoons working on things that need to be worked on (sorry to be opaque but they aren't quite public yet), instead the weather was quite nice and so there was a lot of wandering around with days progressing from a search for good coffee to a search for good cocktails to a search for good late night company/activities,  lather rinse repeat with an increasingly foggier state of mind – something like this.
besides wandering, i did see our friend Martin Dockery's new monologue  The Holy Land Experience, and also visited the Lady Gaga installation at Barney's on Madison Ave, which was highly underwhelming, but Bill Cunningham (famous NY fashion photographer, not the Fox News dude) was outside taking photos of people going in and out and i said hello to him as I had just watched the amazing Bill Cunningham New York documentary again just the night before.  i said "hello Mr. Cunningham!  I just watched your documentary again last night!" and he said "Why would you do that?" and then went on clicking. and then it's possible that he took a photo of me that if so i'm sure will end up on the cutting room floor and not in the NYT but still made my day.
and then i came to Puerto Rico, where my friend Reagan's surfer family has a house on the very west end in Rincón, near Aguadilla, to a surfing town that is so not-foreign it feels like i'm in Florida. i mean, it's part of the U.S. but i didn't realize that it would still feel like the U.S. once arrived, I also intended to do work, but i am in a house that shares wireless with the surfer hostel next door, and for the first two days it didn't work. when we asked why it wasn't working, dude seriously said "i dunno….wind?".  it was mentioned that turning it off and on again might work. and wouldn't you know, we got home and hey!  it worked.
our friends Justin (who always seems to be in the same part of the world i am, even when we dont plan it (see: Prague 2009, Chile 2010, and now PR 2011) and Amanda were on the island visiting family and we had quite a Christmas eve that involved surfing (catching my first wave evar!) and then some epic bar dancing where we made complete asses of ourselves and included justin catching me from hitting the floor in a badly calculated dance move involving multiple bar stools. you know: christmas.
since then Reagan and i have gone surfing, went to morning yoga on the beach, hiked a 5 mile loop, and ingested numerous rum-filled coconuts in between. i'm here for 2 more days, now the internet works, and maybe i'll get some work done, although we tried surfing again today but the waves were too small and so obvi we have to go back tomorrow

.  then it's back to NYC, where Jay is now wandering the streets on his own time and we will meet up, and then NYE weekend, which, if i can count on my friends, will be full bore until the sun comes up on new year's day.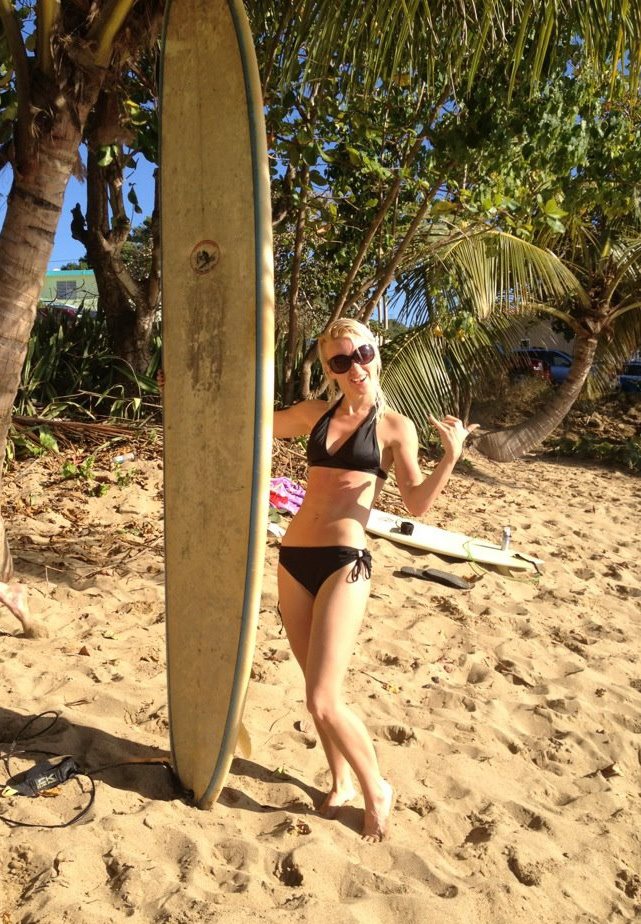 Filed in autobiographical, travel | Tagged with justin, NYC, puerto rico, reagan, wanderlust
|
Comment (1)