May 17th, 2012
day1/SatMay5: seattle
early morning departure from SFO, arrived early afternoon, took a cab to the 11th Avenue Inn B&B (highly recommended), settled in to the great little stand-alone apartment they gave us, and since it was a rare gorgeous sunny afternoon in Seattle, headed out for a walk to Volunteer park a short distance away, which was crowded with Cindo de Mayo festivities. wandered back, found Plum, an excellent vegan restaurant and had a late lunch.
later rendezvoused with longtime internet friend @OffbeatAriel and Andreas and little Tavi at Cal Anderson park, and then hit the bar/restaurant district for a long succession of beers and food. the night of Cinco de Mayo is a parade of trainwrecks, and we found most of it to be too loud and crowded, but Elysian Brewery was best, hands down.
fitbit data: 20,266/8.85 miles/33 floors
day2/SunMay6: seattle
slept in, had brunch, went wandering downtown/waterfront, found a nice little cocktail bar – the ZigZag Cafe – tucked away on one of the many sets of stairs that go between the bluff under the Alaskan Way Viaduct and to the waterfront. then walked back up to Capitol hill for vegetarian Thai food and off to bed.
steps: 16,249/7.1 miles/33 floors

day3/MonMay7: seattle
had breakfast at the B&B, where we met some cool people from Harlem who coincidentally also work in the fields of energy (he) and art (she) and talked to them for a long while about all that and New York, moved/walked to the hotel where the families were staying, went back down to the waterfront with Jay's mom and stepdad, my family arrives, we all rendezvous for dinner at a pizza joint, took another walk to a comic book store and around town and then to the Space Needle before sunset. went to bed early for an early morning departure.
steps: 23,315/10.18 miles/26 floors


me, my mom, my sister, and my niece at the Space Needle
day4/TuesMay8: seattle, embarkation, out to sea
wake up, hustle to get everyone into the shuttle and to the dock, go through ship boarding process, settle into the room and boat life. it was another really gorgeous day for Seattle and we sat up on deck in the sun while the all the boarding etc happened. had family dinner, went to some shows (song and dance, comedy), and then late in the evening found that the on-board disco was 100% empty, and we all know how i love an empty dancefloor and so i danced my ass off in my own private disco for at least an hour before bed.
steps: 17,710/8.81 miles/78 floors
day5/WedMay9: at sea
this was a really long day. overnight we encountered a huge pacific swell, and the boat was rolling around all over the place. not only was it rolling constantly, our room also kept shaking like an earthquake (due to being close to the engines? i dunno) and we could barely sleep. tons of people got sick – the crew had placed little stashes of barf bags all over the place, stuck on doorways and elevators. i thought i was immune to the seasickness until i tried to go to the gym and run on the treadmill. WRONG ANSWER. had dinner, went to some shows on board and basically just lolled around on unsteady sealegs.
steps: 13,765/6.05 miles and 177 floors!
(sidenote on all the steps: yes, we were on a boat. but it was a BIG boat, and i made it a point to not sit still too long, and to never take an elevator, which on a boat that was 11 stories tall with stuff on every level can be a lot. so many of those steps are up and down, up and down stairs and through the many long tunnel hallways of the boat trying to find the other 8 members of my party. and then in every port city, we weren't much for the tourist attractions so we just WALKED.)
day6/ThurMay10: Tracy Arm Fjord, AK (on boat)
on this day the boat took a trip up into the Tracy Arm Fjord to South Sawyer Glacier. a beautiful scenic trip, though the weather was quite drizzly and cold on deck. the boat drove right up into the ice. it was pretty cool. evening was more shows/bar hopping on board.
steps: 11,186/5.08 miles/77 floors
day7/FriMay11: Skagway, AK
Skagway is a tiny port town of about 10 square blocks and 800 people, but for some reason, despite there being almost nothing there, this was one of our longest ports of call. we got off the boat around 11am and wandered into town. by this point i was really really really really ready to get off the boat. all the swaying/moving and constant vibrating was killing me. after a run through town we went back to dock, met up with all the rest of our families, and boarded a train to the White Pass & Yukon Route for a ride up into the mountains. it was nice and scenic, albeit freezing cold. the landscape quickly turned from spring by the coast to fresh piles of snow over the pass.
back down the mountain and back into Skagway. not only was the boat motion making us physically ill, but the food and beverages on board were also not quite up to our foodie-par and my mostly-vegan gastro-intestinal sensitivities (the only saving grace being that we sat down to formal dinners every night, not eating from the neverending fast food buffet, and the food in the dining room was good, AND they had vegetarian indian food for an option every night, which i had 5 out of the 6 nights we ate dinner there, so THANK YOU TO WHOEVER DECIDED TO PUT THAT AS A PERMANENT ITEM ON THE MENU!) and so we were eager to 1. stay on land as long as possible and 2. get some good beer and food in us, so we headed for the local brewery – Skagway Brewing Co. – that we had spotted earlier. this place was great – we had a few good microbrews and decent dinner, and then it was time to get back on the boat.
steps: 15,387/6.72 miles/74 floors
day8/SatMay12: Juneau, AK
we woke up early in port in Juneau and the weather was still really crappy, so we wondered if our Big Adventure scheduled for that day – helicopter to a glacier, and then wintery dogsledding – was going to happen. we called, and were told that indeed the higher altitudes were socked in with fog (which we saw going up only 2800 feet on the train in Skagway) and that they had gotten over 10 feet of new snow in the last 2 days. still fully winter up there at altitude. so there wasn't enough visibility for them to take us up to the dogsledding camp in the helicopter, but they did downgrade us to just a helicopter ride to a different location. a little bummed, but still excited!!
we got off the ship around 8:15am and were shuttled from port out to the Juneau airport. after a short briefing and some gear additions, we were separated into groups of 6 and piled into the helicopters. we put on the headphones, he started the copter, and woop! up we went! i think because i was the smallest person in our crew, i got the best seat! jay was sitting right next to the pilot in the front seat, and then i was right next to him, next to the window, which in a helicopter is like one big bubble so i could see everything around and below me. we went up and all of the bays and riverways and valleys and mountains around Juneau appeared. really quite amazing, and we could see for quite a ways even though it was misty/foggy at elevation. jay says the helicopter was going 140 mph, but it sure didn't feel like it. it felt like floating. we then arrived at the valley where the glacier was, the pilot swooped around a few times, pointed out the mountain goats, and then landed us right on the glacier. it was pretty slippery, what the the drizzle/rain, but the pilot said that the ice looks even bluer when it's overcast (if it's sunny all you see is reflected light/glare) and we were able to hop around a little bit and look down into some chasms. we spent about 15/20 minutes on the glacier, and then got back in the copter for the trip back. so all in all, only about a 45-minute trip but super cool.
we got dropped off in the town on the way back at around 11am, and it was pouring cold rain by then. we hung out at the famous Red Dog Saloon for a bit of beer-for-brunch, and then set out to see if there were any suitable places for lunch. we ended up at the one asian restaurant in town, a chinese/sushi fast food place, and when i ordered a plate of just plain steamed broccoli the guy was kind of confused. was alright anyway, and then we headed back to the boat for another evening of entertainment and wandering around.
steps: 13,246/5.79 miles/100 floors
day09/SunMay13: Ketchikan, AK
the weather had funny cleared up, but we only had a few hours in Ketchikan so not enough time to go hiking or get into the wilderness at all. so we set out on a long walk through and around town, and just enjoyed being outside, on land, and not in the rain. back on boat, where the food/entertainment combo of the evenings were starting to feel like groundhog day.
note: i would not say the entertainment was bad, just not my style (a lot of campy cover bands, broadway-style shows, showtunes etc). there was one music act we really liked – a solo guy with an acoustic guitar who sang classic rock songs at the bar in the beautiful atrium of the boat nearly every night until midnight, and we sat there at least 3 nights with jay's mom and stepdad for hours, singing along and making requests. so thank you to him (Scott the Guitar Player) for being there and being so enjoyable.
steps: 16,680/7.29 miles/86 floors
day10/MonMay14: Victoria, BC
it was finally a really sunny on deck as we headed back south, and so we were able to bask poolside for most of the afternoon, as our port call time wasn't until evening. once in Victoria (the capitol of BC and "City of Gardens") we just took a very nice long sunset-into-dusk walk along the seaside, through the park, through downtown and all around the harbors until time to get back on the boat.
steps: 19,611/8.57 miles/44 floors
day11/TuesMay15: Seattle, WA
disembark in Seattle, cat-herded everyone to hotel, walk downtown to a lunch my mother arranged with my Great Aunt Mitty and a whole slew of extended family members i have never seen before and probably never will again, except for (my 2nd cousin once removed? i don't even know) Jeremy Gregory, who lives in Tacoma and i was ordered to sit next to and for good reason: he's an amazing artist working on really cool projects with puppets and photography and stop-motion animation. we talked through the whole lunch.
back to the hotel to grab luggate, and then to the airport to go home.
steps: 17,511/7.65 miles/20 floors
In summation:
2500 miles from Seattle, WA to Skagway, AK and back on an enormous boat, floating through glacial fjords, a train ride into the snowy mountains, a breathtaking helicopter ride, playing on a glacier, fields of spring flowers, endless ocean vistas, mountain views, lots of time with the families, lots of songs and dances, Seattle adventures to start and end, and many many memories.
View Larger Map
total fitbit stats: May 5 – May 15
184,326 steps
82.09 miles (8.2 per day)
748 floors (7480 feet!)
and how fitting! — this earned me a Helicopter badge on fitbit!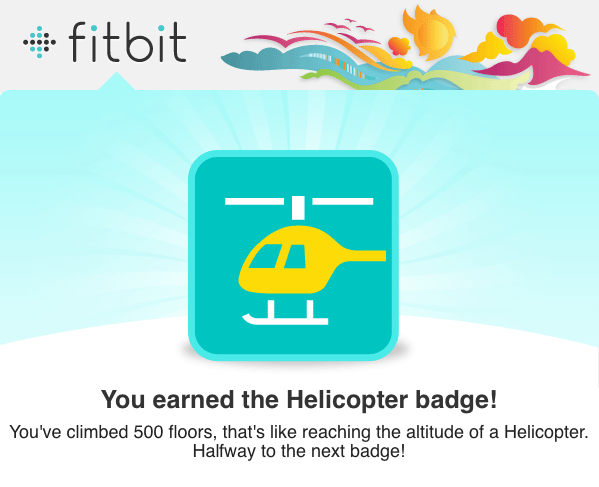 Conclusion:
it's clear that me and boats don't play well together. all the motion, all the noise – i just can't be comfortable. i have a pretty long "bucket list" for life, but "sailing around the world", or even sailing anywhere, ever, is not on it. i do not plan on "cruising" again. i had wanted to get a lot of excercise per day, which i did, but not in the way i expected . working out like i usually do in the gym on the boat was not going to happen with all the motion. and the only yoga classes were at 8am every day. uh – no. so i readjusted to walking laps around the boat and using our time in ports to take really long walks in the towns. i had also wanted to read for an hour a day, but that also couldn't happen because of the motion so i'm a little behind on my reading list.
HOWEVER, this was a really great thing for us to do with our families, and it was really great to spend time with all of them, and yes: without fail, the scenery was majestic. i hope to get back there someday and get into the interior. the coastlines were nice, but i like to climb mountains!
i think the most surprising thing was that i did almost totally check out and unplug from thinking about the rest of my life. i didn't think about work, about our upcoming Enormous Life Transition (please stay tuned for that important announcement, and NO: we are not getting married), i didn't turn on my cell phone while in ports, and i didn't read a paper or watch the news. i think the permanently unsettled feeling of just being on the boat (sea sickness, constant vibration, not-my-usual-diet), combined with the craziness of being on a cruise ship for 7 days with 8 members of your family and the amazing awesomeness of the Alaskan scenery was physically and mentally enough to deal with. in a good way.
Filed in autobiographical, travel | Tagged with alaska, british columbia, family, seattle
|
Comment (0)