August 24th, 2012
a short rundown of our galavanting since arrival that is definitely missing some things.  i'm pretty sure that i will not continue to keep track of all the where/what/when we're gonna do here, but this is special because Neal and Shelby were with us for 8 days!
picking up where we left off…  (keywords: little dragon, prospect park, ecstatic dance, highline, upright citizens brigade, w. kamau bell, ezra furman, sprinklers, humans of new york, museums, sleep no more, purple rain dance party). 
mon 8/6 – thurs 8/8: mostly apartment hunting in daytime, wandering around brooklyn at night, scoping neighborhoods
thurs 8/9:  awesome welcome vegetarian potluck at m&c's, stayed up a lot later than anticipated.  noted:  the table was filled with all kinds of super delicious fruit and vegetable dishes and salads, but as far as i recall, no one brought dessert.  in SF, half the table would have been filled with desserts. conclusion: people in NY don't eat dessert.
fri 8/10:  went to see free Little Dragon concert in Prospect Park.  i am not so much into little dragon (a little too synth pop for my taste) but it was a fun time.
sat 8/11: we had some people over at our temporary place, spent a nice night on the roof until midnight-ish and then walking around bklyn late in the evening.
sun 8/12: more apartment looking, watched Lost in Translation again.
mon 8/13: n&s arrived
tues 8/14:  morning: signed a lease!!!  we are brooklyn residents!  vintage shopping in wmsbg, where i bought a ridiculous pageant gown in a bright swirly psychedelic print and covered in rhinestones on the front. it could't be helped. there will come a time for it, i know. then in the evening, we went out with the other j & a, and they took us all for a surprise to Upright Citizens Brigade improv night.   was pretty funny, although i can't imagine wanting to go over and over again like i'm sure some people do.  had dinner/drinks afterward.
wed 8/15:  it was a rainy day but we headed out into the city for wandering and shopping.  i bought another gown.  because 1. i needed another black dress and 2. gowns are important for poor art school students in NYC.  right?  went to Wash Sq Park, ate at one of my fave vegan places, Sacred Chow, gave up when it got too cold and rainy to wander around and went home.
wednesday night neal and i went to Ecstatic Dance NYC and due to freak metoerological circumstances our SF friend Kathryn was delayed overnight on a flight out of at JFK and joined us there!  Ecstatic dance NYC is like Ecstatic dance oakland except 1. WAY HOTTER IN THE SUMMER and 2. way less contact improv.
thurs 8/16:  thurs AM ran some errands, met up for lunch with aB, then met the rest of the crew at the FX studios to see a taping of our old Oakland friend W. Kamau Bell's new show "Totally Biased" on FX!  was super funny, and fun to see a show being taped, which i never had.  *HIGH FIVES* to kamau for making it big!!!
afterward we walked to the HighLine and hung out and played in the water sculpture foot fountain thingy.  later that night, we went back to brooklyn to see our man Ezra Furman play at the Knitting Factory.  superlative, as always.  if you are not listening to Ezra Furman i feel sad for you.
fri 8/17: it was hot so in the afternoon we set out to find some of those playground sprinkler/fountains they have all over NYC.   technically adults without kids are not supposed to play in those things but \whatev/.  took large quantities of margaritas to go.  maybe that's why adults like us aren't allowed. anyway, went to Ft. Greene, had some sushi, played in some sprinklers.
later that evening we went to the upper east side and it started to rain really hard and we didn't have umbrellas and so we found a long piece of cardboard and the four of us ran down the street holding this cardboard over our heads.  it was fun, actually.  other people laughed and those also without umbrellas said "hey we should be doing that". and then tried to go to the Whitney Museum of American Art, but so did everybody else and the line was around the block and it would've closed before we had enough time to look around, so we bailed.  fail.
but on the WAY to the Whitney, a photographer approached us and said, of the 4 of us, to jay, "hey can i take your photo?  i really like what you're wearing." at first we were all confused because he was with ME and i was dressed up and almost NO ONE ever asks to take jay's photo and not mine ; ).  after he took the photo we said "who are you?" and he said "i have a photoblog, Humans of New York" and i SQUEEED. we wondered if jay would make the publishing cut and the next morning, there he was!  conclusion: another one of the differences in NY is that i am pretty much invisible compared to all the beautiful women, but jay ranks pretty high among men.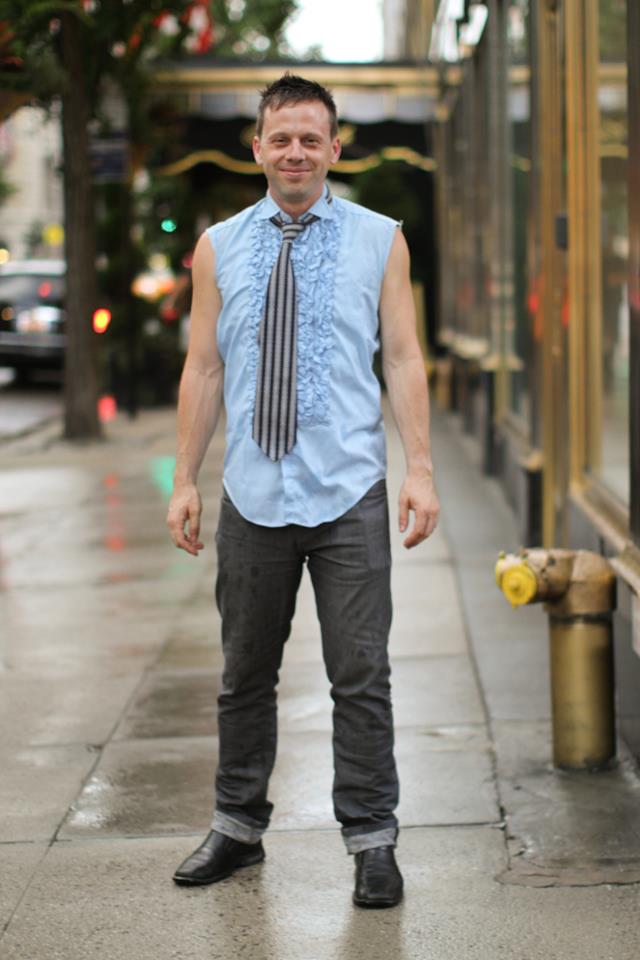 "We're heading to the Whitney."
"What's happening at the Whitney tonight?"
"…art."
after the failed attempt at the Whitney, it was still raining, we had 3+ hours to kill before our next thing, and we needed a drink.  we went to the fancy Carlyle hotel because it was right around the corner.  the drinks were good. the hotel was fancy.
then back downtown, and at 11pm we went to the acclaimed Sleep No More. this is where this blog post could get really long, but i'll try to keep it short.
**SPOILER ALERT*
Sleep No More is an immersive theatrical experience.  meaning: you are on the stage, in the stage, part of the stage. the actors move around you.  not unlike a Ren Faire or Dickens Faire kind of thing between actors and viewers, except it's only the performances (no vending/food/games etc.).  They've converted an old hotel with many floors and many rooms into an enormous theatre space.  It's loosely based on the themes and characters in Macbeth, but not like seeing a performance of Macbeth because you are moving all around, everyone is moving, wandering  and you only see some of the "scenes" unless you follow the actors around deliberately, which some people were doing in little herds.
Punchdrunk, a British site-specific theater company, has taken over three abandoned warehouses on West 27th Street to enact the sorry sights of the murderous Macbeths' career in a movable orgy titled "Sleep No More." And the resulting adventure in décor — a 1930s pleasure palace called the McKittrick — suggests what might have happened had Stanley Kubrick (of "Eyes Wide Shut" and "The Shining") been asked to design the Haunted Mansion at Disney World, with that little old box maker Joseph Cornell as a consultant. –NYT
sounds interesting, right?
our group of 4 was separated (on purpose) and i spent the first hour+ alone, feeling the vibe of the space and watching the performances as they came by but not following them around. all attendees wear white masks, which gives it an "Eyes Wide Shut" vibe, along with the extreme voyeurism of just watching people do really intimate personal activities, like bath, shower, weep, sleep.
don't get me wrong:  it is beautifully done and the actors do their jobs well. but for me, there were a couple of things that made it not as engaging  i had hoped.
1. the feel of the place is of an dark middle-ages insane asylum in sepia tones.  hospital beds, bathtubs, electric chairs, doctors offices.  the execution of the concept was beautiful, but for a long period of time it's not exactly the kind of place i like to hang out. for that first hour i really just enjoyed the space, but the more i wandered the more it seemed a bit too monotone.  the rooms were immaculately conceptualized, but it was invariable.  i agree with whoever of my friends said they could have taken it further, done more.
2.  very few people spoke. the crowd was told to be silent. the actors screamed, ranted, shouted at times, but there was almost no dialogue. the silent voyeurism kind of  did it in for me, as i am just not that enthralled by watching someone shower or weep as performance art, and watching the people watching the people was pretty weird, and not in a good way.
3. as someone who has 1. studied a lot of shakespeare and 2. performed a similar aesthetic of bleak, emotionally intense performance art (butoh) (which is why i say kudos to the actors: i know what it takes), after the aesthetic wore off, i was more interested in the production of what was happening  and would probably enjoy the whole thing more if i were part of the cast. this is a downside of being a performer: some times it's hard to be the audience.
after almost 3 hours in that place we were all also tired of being separated and unable to find eachother. which i know is part of the experience.  but i probably would have enjoyed it more had we at least been on somewhat the same stage.
afterward we went somewhere…..i don't remember.
sat 8/18:  farmer's market in greenpoint, brunch, walking around, dinner at home,  we watched Melancholia and it was good.
sun 8/19:  we waited for 45 minutes for brunch at a place nearby and then got inside and realized that they had nothing either me or shelby could eat due to our dietary restrictions because none of our hungover half awake asses bothered to doublecheck the menu.  BRUNCH FAIL.  then we all decided we'd rather have Indian food instead.
after lunch, we (N,S, J,A) walked over the Brooklyn Bridge and into manhattan and then proceeded to do a long urban hike of many many wandering blocks that included everything from Chinatown through Little Italy and up to Grand Central Station and no subway.  then we headed to the top of this hotel that i'd heard had a cool roof deck bar with a view of the Empire State Building, but was we rode up the elevator the music got louder and louder and we all looked at eachother like "ohgodwherearewegoing". we walked off the elevator onto a tiny roof deck bar that was BLARING Prince so loud you could barely hear and we all immediately did an about face and got back onto the elevator.  we ended up in the bar on the 1st floor downstairs instead, where it was quieter and there were velvet couches and pillows and no one else around.  because we are getting old.
mon 8/20 jay had to work in the daytime so N,S & i went to the Museum of Natural History.   either i know too much or it really caters to children but i was just not interested in reading all about dinosaurs again, and the exhibits look so OLD.  AND, the special exhibit, which we paid $25 extra for, was all FAKE THINGS.  sorry for the spoiler kids but it's TRUE.  unless you are under the age of 12 do not pay to see fake things at the museum.  i've been spoiled by the Monterey Aquarium and the Academy of Sciences in SF, which contain Real Living things.  the only thing we really spent time looking at and enjoyed was the meteorites, minerals and gems section. that was very neat.
after this we did some lightning shopping  in the village and then i took everyone to a secret place where we had lots of delicious cocktails and hot dogs.  if you know, you know.  then we went to find a hookah bar and ended up at one that would have been fine except
1. they refused to turn of the bright-ass huge television that was in our faces, because "someone might want to watch the game", even though there was no game showing, and only a few other people in the bar; and
2.  it became apparent after we were there for about 10 minutes that they music was on REPEAT OF ONLY 3 SONGS.  it took a while for all of us to be like…..really?  REALLY?  this Rihanna song AGAIN?  over and over.  we wondered if the wait staff even gave a fuck at all or if they were so zombied out they didn't even notice.  i don't know how you wouldn't go insane.  it's very rare for me to leave a bar without even finishing my drink but we did. tried to go to another bar and failed.  decided we would call it a night.  i mean, it was a monday.
but then we got home and weren't tired.  so we talked about watching a movie.   and someone said i want to watch a movie but i don't want everyone to fall asleep. and it became apparent that some people had never seen Purple Rain.  and so it was that Mandatory Purple Rain Dance Party In Our Underpants happened, where we watched the movie but every time Prince and the Revolution or The Time played you had to get up and dance.  this was very successful at keeping everyone awake.  jay fell asleep a couple of times but we had all agreed to the rules before it started, so every time one of them started playing i woke him up and he'd jump up and start dancing.  everyone completed the mission.  huge success. and then it was very late.
tues 8/21.  went for brunch and then a long walk around greenpoint/waterfront before N&S had to catch their flight. after they left i went to SLEEEEEP. i slept so hard for a couple of hours.  woke up and we watched a pretty interesting movie about a desert town in CA that is dried up because of water diversion and turned into a meth hell — Just Add Water.  it's a dark comedy.  i liked it.  went back to sleep.
….and not much has happened since then.  school hasn't started yet, and we're waiting to move into our new place.  so still feeling like i'm on vacation, and in a bit of a liminal headspace.
now it's Friday night and jay is gonna have his first DJ gig in NYC (NYE not included) at a fundraiser for a friend's pirate opera.
YAY!
(+thank you so much to our special guests neal and shelby, who are wonderful, sparkly humans to spend so much close time with.)
Filed in autobiographical, friends | Tagged with NYC
|
Comment (1)