April 27th, 2012
butoh contains all of the things that i usually avoid.  group activities. games. rituals. prayerformance. contact dance with other humans.  separately, in other contexts, i do not often engage in these things.  but the philosophy, the intention, and the aesthetic of butoh makes these activities therapeutic for me, like yoga.  extreme mindfulness.  patience.  stillness. giving your all with every breath, every movement.  putting it all out there, especially the things you might not want to show.
i had no idea what this was when i first met Anastazia in 2006.  our first interactions were fashion related, as she was making and selling costumes when she first moved to SF. but time went by and she moved her focus back to her primary art, performance, and i moved with her.
and now this weekend we are in the midst of the largest production in SF to date – First Breath – Last Breath: a full theatre production, all our own, sharing the bill with no one else, 90-100 minutes on stage.
this cast is really amazing – seasoned butoh dancers, aerialists, a contortionist, an opera singer, sets by SF artist Shrine, and the live music with is incredibly unique and beautiful. i feel so lucky to be a part.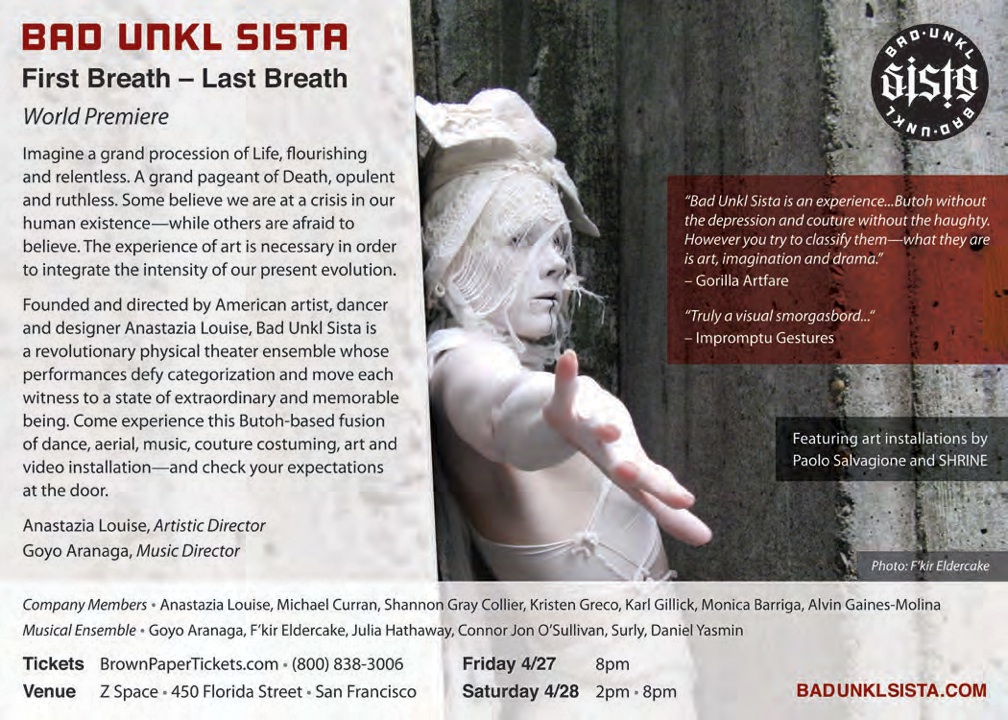 the title refers to the cycle, and cycles, of life, but it is also personally very fitting for me right now. BadUnklSista was my first real breath as a non-fashion-performance artist on a stage, and due to life shifts, this is likely going to be my last performance for a long while.
shows are tonight @ 7:00pm, tomorrow at 2:00pm and 7:00pm.
reviews so far: SF Examiner + SF Chronicle 4/26
"about the liminal spaces between the defining moments of our lives."
Filed in art, autobiographical, bay area gems, events, friends | Tagged with badunklsista, butoh
|
Comment (0)