February 2nd, 2012
last night at the salon, a nice older woman sitting next to me asked, "so what happened with the Occupy? why did it all go so bad? it makes me so sad, i watch the news and i want to cry. i wanted good things to happen."
http://www.washingtonpost.com/blogs/right-turn/post/the-first-casualty-of-fairness-is-the-truth/2012/01/30/gIQA2VYneQ_blog.html
"You know what you don't see much of these days? Those moist-eyed bloggers' odes to the Occupy Wall Street movement. Gosh, remember the columns telling us these people had a noble political agenda? Seems like just yesterday the lefty bloggers were picking through polls, telling us the American people embraced the OWS gang. But then protest turned to filth, and high-mindedness turned out to be just plain-old stench.

To write such loving tributes to OWS took extraordinary discipline, I suppose. Not to actually look (or smell) and determine who the real Occupiers (as opposed to the Occupiers refashioned for the readers of the New York Times and the Nation) were must have taken real will-power, especially since the encampments in major cities (as in the District) were only a few blocks from the journalists' offices. Had they taken a peek or inhaled on the way to work they would have discovered the real Occupy movement.

Zack Munson reports: "There are lots of bearded folks (male and female), lots of dirty tents, some college students, the unemployed, the career homeless, some white people dancing out of rhythm to rock music played over a loudspeaker. The 'movement' itself is still a jumble of anti-capitalist/police/government rhetoric and pointless noise and pungent smells." Oh, well, who wants to write about that?"
it's true.  i haven't wrttien about OWS/OccupyOakland in over a month, but it is not because i think the shine wore off to reveal a bunch of dirty hippies.  in fact, the opposite is true. i think once the new smell and initial popculture interest wore off, who was left was a bunch of super invested people who have since then been heads-down entrenched in making things happen, not out there in the camps but in smaller working groups, in meetings, behind closed doors. see: the Alternative Banking Working Group, for example.
and despite all the negatives, the movement has been effective — causing democratic change on issues local and global, from healthcare to home evictions to school funding, not only in the higher-profile cities like New York  and D.C. but also in small towns across the U.S. …. not to mentioned having kicked the door open for a lot of other progressive non-Occupy NGOs and social and cultural groups to take a stand. The Media, of course, chooses to only focus on the the bad apples.  this is true for nearly every single aspect of society, not just OWS, and everybody knows it. so why don't people question what they see on the news more often?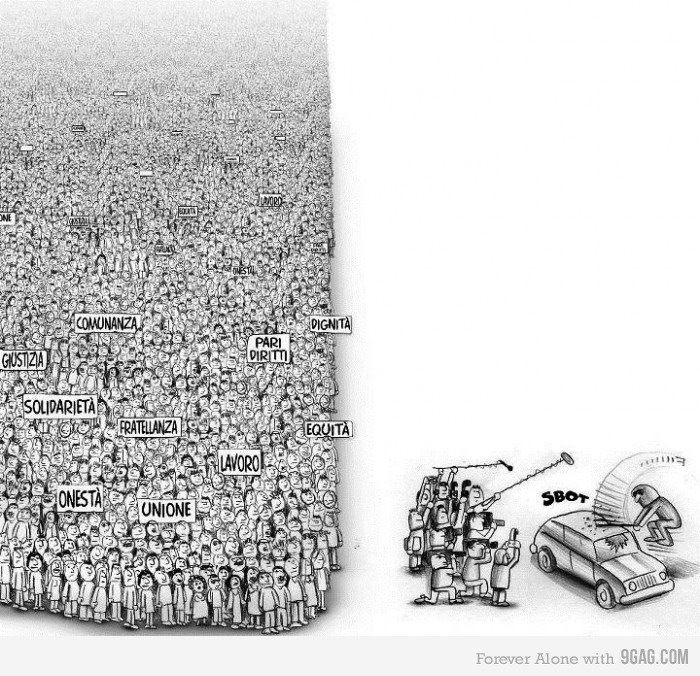 i told the woman at the salon to try to look up other places to read about Occupy, and that while i am not actively involved much  personally, i know many amazing, hardworking people who are and i know, without any question or doubt, that they are doing good things with the right intentions.
"The breadth of this movement is one thing, its depth another. It has rejected not just the particulars of our economic system, but the whole set of moral and emotional assumptions on which it's based. Take the pair shown in a photograph from Occupy Austin in Texas.  The amiable-looking elderly woman is holding a sign whose computer-printed words say, "Money has stolen our vote." The older man next to her with the baseball cap is holding a sign handwritten on cardboard that states, "We are our brothers' keeper."

The photo of the two of them offers just a peek into a single moment in the remarkable period we're living through and the astonishing movement that's drawn in… well, if not 99% of us, then a striking enough percentage: everyone from teen pop superstar Miley Cyrus with her Occupy-homage video to Alaska Yup'ik elder Esther Green ice-fishing and holding a sign that says "Yirqa Kuik" in big letters, with the translation — "occupy the river" — in little ones below." – Compassion Is Our New Currency
last weekend in Oakland  there was another Occupy vs. OPD clash when Occupy tried to take over an empty building.  before you keep reading,  WATCH THIS VIDEO.
the press and City Hall reported that the Occupiers were breaking into buildings and harrassing police and that, 6 months into the movement, all this is is a temper tantrum on the part of entitled youth and rabblerousers who should find better uses for their time and stop being a public nuisance.  but here is the perspective from Occupy:
http://occupywallst.org/article/regime-change-oakland/
"In Oakland, thousands of active community members chose to engage in true democracy by supporting the real and pressing needs of the people. The state, which supposedly represents these people, exercised extreme police brutality and violence to protect the 1%'s vacant assets. The explicit goal of the action was to build community—to open a desperately needed community center with a library, medical care, free education and emergency housing in a city that has suffered massive budget cuts, high unemployment rates and ravaged public schools. In response, the city government poured hundreds of thousands of dollars, bullets and canisters of tear gas into declaring open war on these parents, students, workers, artists, teachers, children and veterans. These people's only offense was to believe so deeply in the American tradition of democracy, self-sufficiency, and sacrifice for the next generation that they were willing to put their bodies on the line to make this nation the empowering democracy that we know it can be."
And here is a journalist's first hand account of the situation, and being unlawfully arrested: http://motherjones.com/mojo/2012/01/journalists-arrested-occupy-oakland
so yeah, there are obvious issues with people taking over public buildings and setting up DIY healthcare units etc.  not up to code, health violations, blah blah blah.  but what i don't understand is why the City can't just,……let them try? see what happens?  wouldn't that cost FEWER CITY DOLLARS AND RESOURCES than hiring an outside army of police to shoot rubber bullets at citizens, people trying to create for their communities what the government has neglected to protect or provide?
which leads me back to reiterate that the main success of this movement has been to get people to WAKE UP.  maybe they're waking up to an American Dream Turned Nightmare, but if that's the case then if Occupy stands for anything it's this: STAND UP AND FIGHT. OCCUPY EVERYTHING that matters to you.
The Ultimate Culture Jam
http://www.adbusters.org/magazine/100/spiritual-insurrection.html
"We awoke one morning to the dark realization that humanity is being dragged into a black hole of ecological, financial and spiritual catastrophe … that our democracy has been seized by a corporatocracy … that every day two hundred species of plant, insect, bird and mammal become forever extinct … that a deluge of advertising is sleepwalking our civilization to the brink of insanity … and that unless we fight back in the most visceral and creative way possible all will be lost.

And yet, what sets our struggle apart in 2012 is that we are not fighting to save a distant future. We are not trying to prevent some terrible event that is still to come. This is not about our unborn grandchildren. Instead, many of us sense that the threshold has already been crossed; the tipping point has already happened and what we are fighting for is our present. We are living in that tragic moment of eerie stillness where the fatal damage has been done, widening cracks can be seen, yet the edifice still stands and business as usual continues … but for how much longer?

Our days may be shadowed by this dark realization, but there is reason to be deeply optimistic for "where danger is, grows the saving power also." Never before has the tantalizing possibility of a Global Spring, a worldwide people's insurgency for democracy, seemed as close. For perhaps the first time in human history, we just might be on the edge of an everywhere-at-once revolution against the financial fraudsters, corporate lackeys and the ideology of consumerism that has brought the Earth to the precipice of collapse.

In this, the era of the total and transcendent indignato swarm, we look to each other, not to the masters above, to find out what it will take to pull off the ultimate culture jam: spiritual insurrection."
this post is to be continued, in the vein of CULTURAL TRANSFIGURATION: OCCUPY ART.
Filed in culture and random linkage, politics and news, things you can do | Tagged with #occupyoakand, #occupywallstreet, #ows, adbusters, capitalism, oakland
|
Comment (0)