December 27th, 2011
yes, i have been on vacation for 9 days and i have not blogged a thing about it.  isn't that what vacation is for? not doing what you don't feel like?
first i was in new york for 4.5 days, and while i had intentions of sitting in coffee shops on snowy afternoons working on things that need to be worked on (sorry to be opaque but they aren't quite public yet), instead the weather was quite nice and so there was a lot of wandering around with days progressing from a search for good coffee to a search for good cocktails to a search for good late night company/activities,  lather rinse repeat with an increasingly foggier state of mind – something like this.
besides wandering, i did see our friend Martin Dockery's new monologue  The Holy Land Experience, and also visited the Lady Gaga installation at Barney's on Madison Ave, which was highly underwhelming, but Bill Cunningham (famous NY fashion photographer, not the Fox News dude) was outside taking photos of people going in and out and i said hello to him as I had just watched the amazing Bill Cunningham New York documentary again just the night before.  i said "hello Mr. Cunningham!  I just watched your documentary again last night!" and he said "Why would you do that?" and then went on clicking. and then it's possible that he took a photo of me that if so i'm sure will end up on the cutting room floor and not in the NYT but still made my day.
and then i came to Puerto Rico, where my friend Reagan's surfer family has a house on the very west end in Rincón, near Aguadilla, to a surfing town that is so not-foreign it feels like i'm in Florida. i mean, it's part of the U.S. but i didn't realize that it would still feel like the U.S. once arrived, I also intended to do work, but i am in a house that shares wireless with the surfer hostel next door, and for the first two days it didn't work. when we asked why it wasn't working, dude seriously said "i dunno….wind?".  it was mentioned that turning it off and on again might work. and wouldn't you know, we got home and hey!  it worked.
our friends Justin (who always seems to be in the same part of the world i am, even when we dont plan it (see: Prague 2009, Chile 2010, and now PR 2011) and Amanda were on the island visiting family and we had quite a Christmas eve that involved surfing (catching my first wave evar!) and then some epic bar dancing where we made complete asses of ourselves and included justin catching me from hitting the floor in a badly calculated dance move involving multiple bar stools. you know: christmas.
since then Reagan and i have gone surfing, went to morning yoga on the beach, hiked a 5 mile loop, and ingested numerous rum-filled coconuts in between. i'm here for 2 more days, now the internet works, and maybe i'll get some work done, although we tried surfing again today but the waves were too small and so obvi we have to go back tomorrow

.  then it's back to NYC, where Jay is now wandering the streets on his own time and we will meet up, and then NYE weekend, which, if i can count on my friends, will be full bore until the sun comes up on new year's day.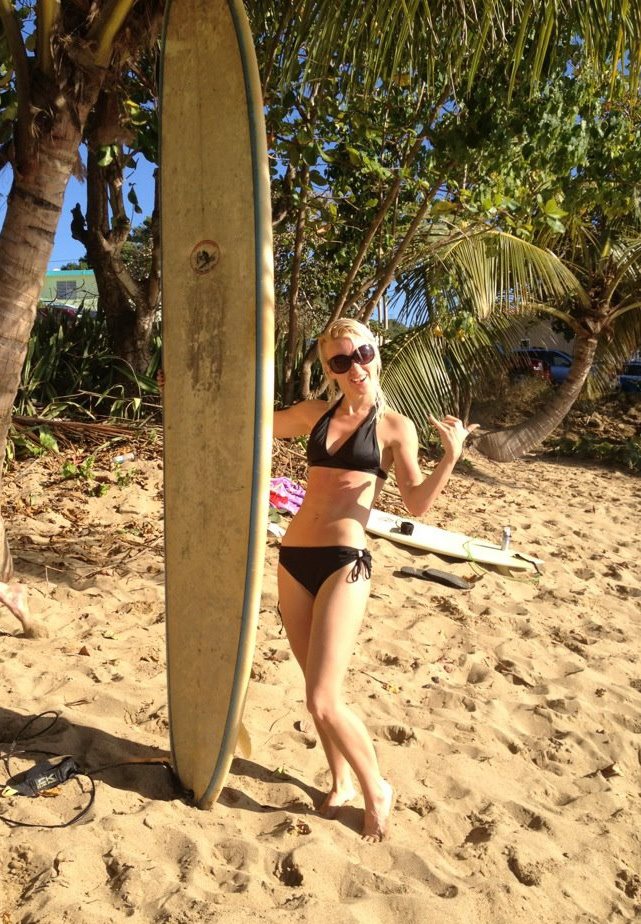 Filed in autobiographical, travel | Tagged with justin, NYC, puerto rico, reagan, wanderlust
|
Comment (1)