November 22nd, 2011
1. i urge you to watch this video of the retired Philadelphia policeman who was arrested at #OWS, talking about the problems he sees with how the police are interacting with this movement.
he is super respectful of the police, but notes that from his experienced perspective,  there seems to be no link between leadership and the police on the ground.  the mayor says she doesn't know why it happened. the chancellor says she doesn't know why it happened. everyone's apologizing after the fact. but what about preventing this from the top down?
also on this point, this article "Militarising the police from Oakland to NYC " talks about the fact that since 9/11, our police forces have been increasingly militarized (through funding from DHS) in order to be able to respond to terrorist threats. this causes a mental shift in how police respond to things.  they have been given different tools, different directives. and now they are being used against peacful American citizens, treating demonstrators like terrorists. as the cop in the video above says, police are people too, and subject to emotions and situations. so they respond according to what they've been taught and the tools they've been given. as someone said, when you're dressed in riot gear, everything starts to look like a riot….
All over the country, police switched out their traditional uniforms for Battle Dress Uniforms, dubbed by one retired policeman in the Washington Post as "commando-chic" regalia. It wouldn't be surprising to find that swaggering around armed to the teeth and dressed like RoboCop might lead some cops to adopt a more militaristic attitude.

Former San Jose chief of police Joseph McNamara raised these alarms as early as 2006 in the wake of the Sean Bell shooting in New York. He pointed out that the effects of the drug war and 9/11 had led to "an emphasis on 'officer safety' [where] paramilitary training pervades today's policing, in contrast to the older culture, which held that cops didn't shoot until they were about to be shot or stabbed".

Likewise, in the name of "officer safety", the Taser became a common tool in everyday policing, deployed with little knowledge of the effects, and a tendency to Taser first and ask questions later. But over the course of the past decade, the body count grew as it became more and more obvious that tasers were sometimes as deadly as the guns they purported to replace."
2.  in addition to illustrating how militant our "Keep the Peace" police forces have become with few checks and balances, the Occupy movement has shown that our politicians are much more willing to talk strongly about supporting democratic uprisings in other countries, even sending in troops to fight multi-billion dollar wars for others' freedom, while keeping their mouths shut on our own domestic affairs.  Sec. Clinton and Pres. Obama have been on TV since Arab Spring supporting democratic uprisings and movements around the world, but mostly silent about our own.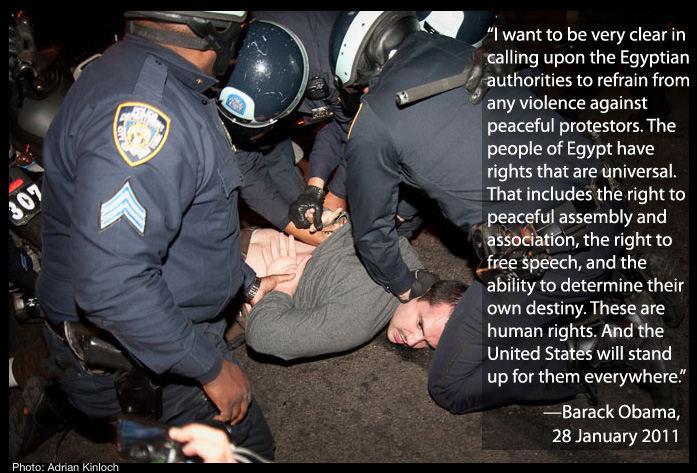 i realize it's a pre-election year and they don't want to too-closely align themselves with what some see as a "leftist" movement (which it isn't, it's more of a populist movement), but i dare say they're losing precious votes and active supporters by more or less staying silent on not only the bank situation (slight nods to "protecting the American Dream" don't count), but taking a stand for 1st Amendment rights and against police brutality issues. the fact that Obama has made no (or so few) public statements about the rights of Americans in the Occupy movement makes me angrier every day that goes by.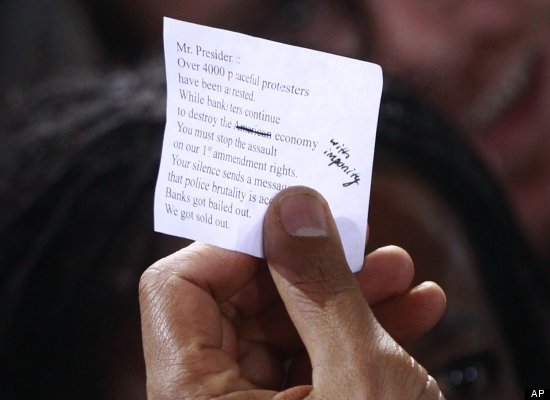 (a note handed to Obama in NH this morning)
[update] rereading this again, i think it sounds really strident, or, propaganda–y, and i am not wanting to be naive in thinking it's easy to change an entire way of life, and perhaps Obama "expressing solidarity" with the Occupy movement is all that is really pragmatic at this point. let the movement lead itself.
Filed in politics and news | Tagged with #occupyoakand, #occupywallstreet, #ows, capitalism, NaBloPoMo, obama
|
Comment (0)