September 10th, 2011
i've come again
like a new year
to crash the gate
of this old prison
i've come again
to break the teeth and claws
of this man-eating
monster we call life
i've come again
to puncture the
glory of the cosmos
who mercilessly
destroys humans
i am the falcon
hunting down the birds
of black omen
before their flights
i gave my word
at the outset to
give my life
with no qualms
i pray to the Lord
to break my back
before i break my word
…
you have set up
a colorful table
calling it life and
asked me to your feast
but punish me if
i enjoy myself
what tyranny is this
-Rumi, from Fountain of Fire
.::.
Black Rock City, 2011.
unlike previous years, i did not write anything in my journal while on the playa this year. not a single word.  never even removed it from my backpack.  it wasn't that i made a conscious decision not to – i just didn't.  last year i spent a lot of time reading and writing while there. this year i did almost none.  i was so busy doing….what?
so i don't know where to start with this right now, as when i try to recreate history without a record  i always end up so confused.  what is appropriate to say and what isn't, out of respect for boundaries, respect for relationships, respect for art, respect for humanity? what did i really feel then, versus what i feel about it now? after this 7th year, am i just repeating myself?
perhaps.
.::.
The Good:
the weather, this year: perfect. warm nights, sunny days, no dust storms. nice hard playa surface, perfect for riding bikes with no hands!
our village: False Profit + The Phage (formerly True Prophet) + the Relaxomatic Plushatorium (NYC) = The Institute @ 3:30 and Esplanade. full of amazing people with outstanding talents and abilities and sibling-like rivalries, in a mostly constructive way. so many people were rock stars, working tirelessly on logistics, art, music, lighting and village amenities. long live The Institute for Higher Yearning/Learning/Earning!
lack of sickness on both my part and jay's, and as far as i know no one else got really sick or hurt either.  worst thing that happened was dozens of splinters. also did not pull any major muscles or suffer much back/neck pain. yay! also: no psychedelic freak outs. whew!
i broke my fitbit record!  39,823 steps = 17.56 miles traveled between 12:01am and 11:59 pm on August 31. that's gonna be hard to beat.
camp joke among camp homebodies: "hey, are you going to burning man?" pointing out to all the people and lights and things exploding and happening outside camp boundaries. "eh, maybe."
treasure hunt:  starting at center camp, instructions. resulted in an incredibly large group hug (the Cinnamon Swirl) as well as glory when we reached the f irst checkpoint FIRST! i am not generally super into games or such things but it was really fun tagging along watching other people get excited about it.
Blinky Light Tours at night which utilize the Buddy System, particularly when you decide to be Ejected.
sunday night we took a ride on Malthus (ref.) around the outer rings of the city, yet to be filled in.  slowly crawling through sleepy tent city….we came upon a small group sitting around a fire.  we offboarded, and overtook their party.  they had a fire! and hula hoops! and a long stick of rebar, quickly utilized for an intense limbo contest, which i honorably lost to a young man who i'm pretty sure is an acrobat. it was threatened several times that week that we would return for a rematch, but we never did.
i did yoga at burning man for the first time, despite feeling at bit woozy on Tuesday afternoon. Dr. Toast was supposed to play on the Robot Heart art car while Elena Brower from LA lead a class.  Robot Heart no showed, but Elena lead a class anyway and it was just what i needed to limber up before the big event. it felt GOOD.
i also took a (sun)shower for the first time in my 7 years at burning man. it was refreshing, but i also could've done without it.
Tuesday Night Party – Again. dusk till dawn, it rocked, despite minor complications in the sound and power department. the only time i danced for more than an hour all week.  party was BANANAS in terms of turn out. the DPW yelled several times about bikes on the esplanade, but no one got hurt or arrested, so yay!  all the DJs rocked it, especially Obi-J

(dr. toast, ill.gates, lokae: i will admit to being a total DJ groupie for these 3 and more.)
QOTD:  "it's really hard trying to be glamorous and feral at the same time."
Wednesday Morning Sunrise – i finally declared that Jay needed to leave camp, as he had been setting up sound/working the party since 9am the day before.   Malthus took us on an early morning jaunt to the orange fence while the party was wrapping up.
speaking of art cars:  ART CARS.  following only location/physical conditions, i believe art cars are the thing that makes burning man special.  other festivals are big with sound and ravers and drugs and big art and rituals and community building and whatever, but how many other festivals have Steampunk Octopus art cars that shoot fire, or giant 3 story ships that hold hundreds of dancing passengers while cruising the desert floor?  most art is static and can be installed many places.  the conditions for art cars are much more unique. and awesome. some of our best hours were spent on our two wonderful and better-than-ever village art cars, with special guest DJs spinning sets for small groups of dancey people out in the middle of nowhere, and without the mobility and escape provided by them i might have lost my mind.
5 sunrises in 8 days- most ever!  one i literally rolled out of bed, watched it, and went back to bed, and one was witnessed during exodus, but still.  i love dawn sunrises.
a wedding!  one of our Village couples got unplanned married! it was completely ridiculous and irreverent.  the groom wore purple underpants. we are not allowed to mention who or post photos online or on facebook because if their families find out they are going to be in trouble (they have a real wedding later).
seeing so many of my friends Fucking Happy.  and Beautiful!  everyone is so amazingly beautiful when they are happy.  yes, after a few days, you're dirty and sunburned in odd ways and possibly bruised/scraped/burned in conspicuous places, your fingernails are black, your 5th day of eyeliner is really starting to look Alice Cooper-ish, your hair is a complete and utter rat's nest and you are slightly malnourished and dehydrated and fatigued. but somehow, your smile is huge and brilliantly white and unless you've really been doing some nasty shit your eyes sparkle with the exhilaration of being alive. beauty.
the drive and desire to Make Art, even if it fails (see below). everyone loves the Big Amazing Art That Spins and Shoots Fire, but i think the small art adds a lot too. i joked that visiting Center Camp is like going into an elementary school. colored drawings all over the walls, amateur sing-a-longs, and a center filled with people At Recess, playing with toys.  this is not Fine Art, by any means, and some of it is downright terrible.  but even so, like the indecipherable drawing a 3 year old brings home from preschool –  i love the expression and that it exists and that Burning Man allows a place for it. even the ones that Fail Big (see below).
the White Procession, Thursday morning at dawn.  once again, Anastazia of BadUnklSista organized some of us to leave from the Institute and process to the Temple.  we dressed in white and formed a line similarly to last year, but the procession was less intricate and we just walked slowly and did a short circle of offering when we arrived.  we all laid down, face down, bellies to the earth, hands in the center, holding space in our hearts.  i left shortly afterward, as being at the Temple is too hard for me (see below).
MONOCHROME DAY!!!  for the second year in a row our friends of the Janky Barge offered up their art car to a loosely organized crowd, each dressed in one color of the rainbow, which drives around and forms dancing rainbows at art pieces all over the playa.  way more people than last year and not everyone could fit on – future years will definitely require more art cars. (note that Jay is not visible in that photo because he is up top on the art car, playing the music for our dancing.)
this year, i was not one color but All Colors!  more specifically, i was a prism. i was in all white, with a rainbow umbrella.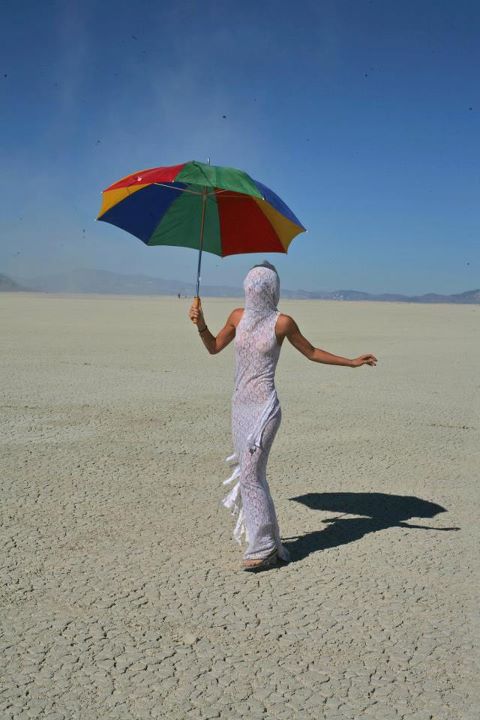 this is a total inside joke, but : "I have failed once again as bait to attract the Prismatic Leopard even though I switched from dressing like a leopard to dressing like a prism."
after monochrome day we totally crashed and then got up in the middle of the night and tried to find some good dancing.  somehow, all week, whenever we went out to find dancing we just kept seeing ill.gates.  maybe it was the handy beer cozies he handed out with his playa schedule on them so it was easy to find him than other DJs.  but honestly, i wasn't TRYING to follow him around burning man, but somehow ended up seeing him play 3 times. that's 3 times more than almost anyone else (see "sound camps" under The Bad below). so thank you Dylan for providing the only non-FP dancing we participated in all week.
Burning Sky!  earlier this year i signed up on the Burning Sky email list and got a reserved spot to ride along their skydiving flights over BRC. (this is the same plane/same crew we jumped with in Davis for my 29th birthday in 2005.)  ours was scheduled for 3:00pm Friday, but this was a direct conflict with Monochrome Day.  so we went over and figured out what was going on and decided to come back and fly standby on Saturday instead.  We hadn't gone to bed until …..8am? saturday morning and only had a few hours sleep before we got up in the middle of the heat of the day and headed over. first we went to center camp and drank a bunch of iced coffee. then we went and waited for a flight.  this took about 90 minutes.  then it was on the art car, out to the airport (so many small planes out there!), and onto the plane.  they made each of us wear a parachute "just in case".  this was unsettling.  i thought we were just riding along! i was only wearing underpants!!  then it was UP UP UP to 15,000 feet AMSL (11,000 feet above burning man).  we flew around the basin for a bit, and you could definitely feel the altitude after a while.  then the skydivers opened the door and JUMP JUMP JUMP WOOO!  except for the last one.  the pilot began making Freak Out the Riders loopety-loops and she started SCREAMING.  LET ME OUT! LET ME OUT!  I NEED TO JUMP!  LET ME OUT!  for several minutes.  we were all strapped, buckled in, and couldn't turn around.  the pilot couldn't hear her, as he was wearing headphones and there was a lot of yelling going on, as the pilot continued to make dives and loops. eventually, he noticed/heard her, and leveled out, and she reopened the door and jumped out.  i'll NEVER BE THAT BRAVE. as soon as she was out and clear the pilot started doing Zero G dives for the rest of us and my stomach dropped and i screamed and the horizen went sideways in the window and HOLY SHIT is that an experience when you're already kind of loopy and cracked out and lightheaded and low on air and sitting in a skydiving plane at 15,000 feet in your underpants. it took us a little while to recover.
(here is a neat video of some of the divers jumping out and landing at the temple)
also, there were 2 newlywed people on our flight who had been gifted flight tokens as a wedding present, and talking to them they mentioned they had earlier this summer been at this other campout thing in the desert for jewish people. and i said, oh, huh, my former college roommate organizes one of those…..and it was the same campout and they know her. there were a lot of these "small world" connections on the playa this year – running into people who knew people or seeing people i hadn't seen in a very long time (like seeing my friend Benny who did NELP with me in 1997 at UofM and i haven't seen since 1998 was camped right next to us). thinking back to 2004, our first year, when the only very few people we knew were fellow hoopers, it definitely gives a sense of belonging and connectedness when now no matter where i go on the playa, it seems i meet or find a friend. is nice.
The Man Burn – first time i've seen it since 2007, as i left before Saturday in 2008 and 2010.  group noted that it seemed like fewer yahoos and you could actually get up fairly close to the perimeter.  was this the result of it Selling Out? or people Fearing Exodus and leaving early? nice burn. we then wandered around for a bit and then went to sleep for like 12 hours, waking up only briefly to watch the sun rise and then go right back to bed.
check out this burn night time lapse video from a hill outside the perimeter 
(i like watching the stars crawl up the sky)
The Temple and Temple Burn – this year's temple structure was so big it was visible from the highway 10 miles out from burning man.  a gorgeous 120′ tall wooden structure with multiple bridges and towers, and a gigantic harp and gamelan inside.  people leave messages and gifts for their lost loves, their lost lives. and for the burn – everyone is quiet for an hour!  no cacophony! so beautiful. so perfect.
I know the voice of depression
Still calls to you.
I know those habits that can ruin your life
Still send their invitations.
But you are with the Friend now
And look so much stronger.
You can stay that way
And even bloom!…
Learn to recognize the counterfeit coins
That may buy you just a moment of pleasure,
But then drag you for days
Like a broken man
Behind a farting camel…
O keep squeezing drops of the Sun
From your prayers and work and music
And from your companions' beautiful laughter
And from the most insignificant movements
Of your own holy body.
Now, sweet one,
Be wise.
Cast all your votes for dancing!
–Hafiz
.::.
The Bad:
people who don't respect sensitivities or boundaries.  i know, i know, burning man is a LIBERTARIAN UTOPIA!  if you want to blare your music as loud as possible IN CAMP during the post-dawn hours before it gets hot during which many people try to sleep, you should, without reprimand!  WRONG.  yes, burning man wants you to Be All You Can Be, but it also wants basic rules of communal living respected if you are living in a village of 200 people.
like also: fucking in other people's beds/shade/pillows.  i'm all for Free Love, but i am not clear on why so many strangers feel the need to have sex, in broad daylight, in the False Profit shade structure.  Pillows Are Not An Invitation to Public Sex. WTF.  if you can't or don't want to make it back to your own quarters, go out in the deep playa!  find an empty art car or sculpture! there are ENTIRE CAMPS devoted to providing a place for you to have sex.  find them! making out, sleeping, snuggling, whatever else is totally fine. and yes, as an Esplanade camp, our shade structure is a "public space", but it is like our LIVING ROOM out there and when i walk around the corner in the morning to see some random dude's naked ass pumping up and down in our pool full of pillows, i am Not OK With That.  other people would like to sit/lie on those pillows without Fear of Bodily Fluids, yo.  again:  just because you are at burning man does not mean common respect should not be observed.  general consensus is that i am a minority in feeling that this overly inappropriate for burning man behavior, that it's all part of what burning man is, and fine – maybe i'm a prude about this. but i'm still not going to like it.
speaking of social mores: getting coffee one day at center camp (one of 2 things you can use money for: coffee and ice), hippie dude waits in line behind us, then after we order our coffee asks jay for a dollar. jay says no.  dude is like "TELL ME WHY, BRO."  WTF. 1. BEGGING FOR MONEY AT BURNING MAN IS NOT OK.  if anything, ask people, BEFORE YOU GET IN LINE, if they'd be willing to gift you a coffee.  even that seems slightly wrong.  2. GUILTING PEOPLE FOR NOT GIVING YOU MONEY AT BURNING MAN is so fucking wrong i don't even know where to start.
sound camps.  my god, i love music and dancing. my life depends on it. EVERYWHERE BUT BURNING MAN.  in theory it is the perfect mix of conditions: no noise violation rules, no bouncers, no walls, everybody READY TO GET DOWN. but the crowds!  ack. some of them felt very unkind and aggressive (cocaine?).  and then there is the problem with no limits: boys will be boys and they just turn everything up and BLOW YOUR EARDRUMS WITH BAD LOUD SOUND.  perhaps if i was not wandering the playa with some of the most discerning and technically oriented sound persons, i might have stayed a little longer at some of them.  but most of the places we ventured to see music were so loud it hurt, and earplugs didn't do anything but muddy/muffle the sound.  if you want a really loud sound camp, get more speakers (nice job, Camp Questionmark).  don't just turn the ones you have ALL THE WAY UP.   sometime later in the week i bemoaned: "I really want to go dancing somewhere else, not at burning man."
Large Scale Pretentious Art That Fails.  it wouldn't have been so bad if it were not about Consciousness Shifts and "Global Oneness" and Singularity or whatever, but we stayed late, with our car all packed up and ready to go, after the Temple Burn to see this supposedly glorious thing FINALLY HAPPEN (days late) instead of getting on the road home at a reasonable hour, and then it was just a huge FAIL – not only in concept execution but including almost injuring several members of the audience and severely injuring one of their own. so i am maybe a little affected when i say those are the only 2 hours at burning man i do want my money back for. i realize it was our choice to stay and wait for this thing without knowing ahead of time what it was supposed to be – but they'd been working on this huge thing all week and it involved large infrastructure and so we assumed it must be awesome!  so yeah i can accept  that maybe i'm just ragging on the Pretentious Global Consciousness Art Project That Failed because it was the last thing i saw on the playa, after a beautiful and heartwarming temple burn, and it was bad and affected my personal experience in a negative way.  i felt a little guilty hating on it and getting up and leaving before it ended.  however, as noted above, i appreciate ALL attempts at art even if it sucks – i support art for the sake of art. so,  i can accept that my own experience of this thing isn't universal and people worked hard on it and things fail at burning man all the time and all that, but this is in the "bad" category mostly because i feel for all the people who spent who knows how many months/weeks trying to get that thing to happen – whether i think it was pretentious or not – and it just failed. EPICALLY.
(aside: some might wonder how i feel i have any room to call someone else's performance art pretentious, given that i myself perform butoh, which i can only assume other people find pretentious. this is a longer conversation, but to me the difference is that when we perform butoh, there is no meaning assigned to the performance.  we do not tell the audience, "this is what this means, this is what you should understand." in fact, it's much the opposite, wherein people often have no clue what it's supposed to "mean" at all, because none is assigned, and people are always asking for it to be explained.  to me, my butoh is purely expressive, and any meaning derived is the viewer's interpretation of that expression and experience.  this thing, above, had a definitive meaning assigned that i find to be pretentious.)
leaving.  OMG does leaving suck.  last year, by myself, with my limited stuff it was easy for me.  i packed up in a couple of hours, hopped in the car, left at sunset Friday night and was home 6 hours later. but due to there being two of us, one who isn't me with LOTS OF STUFF, and having such a good time that we stayed later than intended, what happened was that it took  half a hot day to pack up, and when we left frustrated after aforementioned art fail, got in the car, saw the line of traffic, we decided to put our small tent out in the dark, quiet walk-in for a couple of hours rather than try to drive out on no sleep.  it was calm and quiet when we got in our tent, which we just threw our sleeping bags in and didn't stake down and went to sleep. but then a couple of hours later we awoke to CRAZY WIND BLOWING US ALL AROUND IN OUR TENT. like – literally almost blowing us away while inside it. there were unsuccessful attempts to the weight the corners down, yelling and a comically uncoordinated scramble to get out and pack up the tent without it blowing away, all in the dark at 5am.  really surreal. and then a half-asleep dazed drive out, realizing that exodus traffic hadn't gotten better, but worse.  UGH.  dawn came, and we still were not on the highway.  finally, 3 hours, and we were out.  it took us 12 hours door to door to get home, as we also hit an accident outside Reno that was so bad people were out of their cars standing on the freeway, and labor day traffic returning to SF. but to be honest i didn't mind it that much.  jay slept a lot of it, and i just listened to music and enjoyed the decompression. but still. leaving sucks.
coming home: as obvious as leaving, coming home is hard.  it's one thing if you're solo and you have your own shit to deal with, all dusty and crusty.  it's another thing when there's an entire camp's worth of shit to deal with on top of that.  so we got home monday eve, unloaded all our stuff at home, went to work tuesday, spent 5 hours helping unpack the camp stuff tuesday eve, and got up and tried to return our rental SUV wednesday morning.  we got it professionally washed/detailed beforehand, but unfortunately the rental people that morning didn't think it was clean enough (even though we've rented minivans where it was obvious children had smushed candy into the seats, etc) and vaguely threatened all kinds of things and tried to get us to admit we took it to burning man.  and so there was some freaking out and disagreement and we ended up driving it back home and rewashing/redetailing the whole thing over again ourselves, and then going to work, and then coming home and taking it BACK to the rental place again, where the nightime working guy didn't say anything. so TIPS:    1. GET A LIGHT COLORED CAR, NOT A BLACK ONE WITH BLACK INTERIOR, IF YOU CAN. this likely will save you hours of cleaning.  2.RETURN YOUR BURNING MAN RENTAL CAR AT NIGHT WHEN IT'S DARK.
the unbecoming freaking out that  happens when you are tired and distraught can ruin relationships.  it's very hard to remember and accept that the reason you are so angry/sad/depressed/upset is not because the other person is SO WRONG.  it's because you are SO TIRED.
.::.
New York, New York
I won't go back
Indelible reminder of the steel I lack
I gave you seven years
What did you give me back?
A jaw-grind disposition to a panic attack
The Ambiguous
"welcome home" and greeters. obviously, if you choose to be a greeter and stand out at the gate for hours on end in hot sun/cold darkness and talk to strangers, you're pretty into burning man and that is awesome.  but myself and others are more than a little put off by the "welcome home, give me a hug" thing. the hugs put a lot of people off because often is is some half-naked, overly-enthusiastic human you've never met wanting to give you a giant bear hug, and, well….maybe notsomuch. and the "welcome home" thing……burning man is NOT my home, and i don't consider it my spiritual center. it's your home! great!  good on ya!  but i find that pushing that idea onto everyone who enters is nothing short of CULTLIKE and CREEPY.  ambiguous because i do respect their enthusiasm and know that other people find this a charming part of burning man culture.
i did not lose any weight at burning man.  in fact, i think i weighed more the day i got back than the day i left.  this is ambiguous because it means that i did a good job taking care of myself and eating and drinking as much as i needed to – OR – it's also possible that i ate a lot of junk food and drank like 10,000 calories in alcohol and that is not necessarily healthy.
both times i visited and went inside the Temple, Tuesday evening for yoga and Thursday morning for the White Procession, i could barely stand inside before i had to leave. one photo of someone's cat, one photo of a baby, and i just LOSE IT.  i fall apart.  i can't wander in there and read the inscriptions, look at the photos and the flowers and the treasures left to burn.  i just can't take it.  it's strange because i am never mourning anyone specific, personally.  i am very lucky in that i have lost very few people close to me in my life. but somehow, everyone else's mourning goes immediately through me, and i do not know why or how to feel about it.  also, the morning we did the White Procession, there was in our presence someone who is, to my knowledge, dying.  and i couldn't imagine what it would feel like to stand there, amongst all the memorials, knowing that next year, it was quite likely one might be for you.  i had to leave.
hippie-hating. i don't know who started all the overt hippie-hating on the playa (stickers that say things like "when all you have is a hammer everything starts to look like a hippie", etc), but it irks me in many ways, and not just because i'm a self-proclaimed hippie.  if it's supposed to be an inside joke, it's not really very funny. while some hippies are self-righteous assholes (see example above), so are some of every group on the playa.   let's get this straight: taste in music does not define a hippie, nor does whether or not you have a job, or what you wear. lifestyle does.  and so while you might not listen to the Grateful Dead or wear patchouli or participate in tribal rituals and maybe you work at Google (where you can roll in with bedhead wearing shorts), the fact that you spend all kinds of time building "community" and spend half your expendable income on art and running around half naked and half wasted making out with all your friends pretty much defines 98% of burners as hippies in my book.  so if the hating on hippies is some sort of self-reflective inside joke, it's stupid.  all the Burner vs. Hippie divide does is make me believe that even if all corrupt governments, starvation and war were ended, there is no way humanity can actually achieve World Peace because some people are always going to fight with other people over stupid shit, like what kind of art they like.  (see also: Scientific American: why Burning Man is not an extrapolatable model for resolving cross-cultural conflict).  ambiguous because i know it's supposed to be a joke, and maybe i just need to relax and get it.
communal living: though highly social, i am not a very communal person.  i have avoided most group-type activities for a lot of my life. i do not like to be *alone*, but i also don't like large organized activities with shared agendas.  but i believe that community organizing, consensus decision-making, and learning to function as part of a group/team is super important for many reasons, so i try.  but i don't think i'm very good at it.  i don't like dealing with other people's shit.  i don't like to "take one for the team". i want everyone to be responsible for themselves and their own shit, and generally, everyone is, but when it comes to our "collective shit", people aren't quite as invested and things get dropped. so especially near the end people start dropping balls and assuming that someone else will pick up the slack and/or that no one else will be affected if you don't do the thing you said you would do.  but the thing is, most of the time, it will affect someone else.  even if it seems like a small thing that you committed to do. and unfortunately if you are in a big camp, this gets compounded a lot. TO BE CLEAR: this is not negative commentary on my amazing campmates – more than one person has commented that our camp has got their shit together much more than other camps they have been with. this is more of a personal ability to deal with communal bullshit and personal preferences for the amount of work vs. fun i calculate is worth it. sometimes i am not sure if its worth it to me and maybe i am just not a Good Citizen camper, but at certain points this starts to heavily outweigh the benefits for me and so i remain ambiguous about the cost vs. benefit analysis of communal camping/"chosen community" organization and am not sure i would do it again in the future. whether this is a personal failing or not is ambiguous to me.
repeat nature: if you camp with the same people, in the same place, year after year, it starts to feel more like a family vacation than an adventure into the unknown. this is awesome in its own respects (so much fun with all your friends all in one place, together doing it again!), but also maybe starts to feel repetative when most people feel like the point of burning man is to push boundaries and expand.  indeed, you CAN camp with completely different people in a totally different space year after year, or commit yourself to a new art project every time, and burning man can always be new and different if you invest yourself in making it so. but that requires an adventurous, flexible and low-maintenance personality that i do not currently express. so why do i do it?  am i not tired of it yet?
.::.
If neurotic is wanting two mutually exclusive things at one and the same time, then I'm neurotic as hell. I'll be flying back and forth between one mutually exclusive thing and another for the rest of my days.

–Sylvia Plath, The Bell Jar
.::.
Closing Thoughts:
i have for a while been ruminating on these ideas of Everything and Nothing, and Burning Man is an exceptional landscape in which to try to discern what these things mean, and what things have meaning.  you can bring everything or nothing.  you can love everything or nothing.  you can worship everything or nothing. and i remain convinced that everything is everything, and everything is nothing.  that fundamentally, everything is sacred or nothing is – you cannot pick and choose.
.::.
examining the list above, i think the most productive thing i get from burning man is it forces me to face all of these ideas of comfort, community, friendship, commitment, humanity, morality, and my god -  does it test your patience.  so many tests of patience. it also tests your personal limits and ideas of freedom and restraint.  when you are given open opportunity, how do you choose to be?
all of this can feel very exhausting, and compounded with the elements and physical stress, not a relaxing experience. but somehow that comes out feeling good, like you've been somewhere, learned something, GROWN.
but overall, i think Leonard Cohen sums it up with this Reflection:
I remember Marianne and I was in a hotel in Piraeus, some inexpensive hotel and we were both about 25, and we had to catch the boat back to Hydra, and we got up and I guess we had a cup of coffee or something and got a taxi, and I've never forgotten this. Nothing happened, just sitting in the back of the taxi with Marianne, lit a cigarette, a Greek cigarette that had that delicious deep flavor of a Greek cigarette, that has a lot of Turkish tobacco in it, and thinking, I'm an adult. You know. I have a life of my own, I'm an adult, I'm with this beautiful woman, we have a little money in our pocket, we're going back to Hydra, we're passing these painted walls. That feeling I think I've tried to recreate it hundreds of times unsuccessfully. Just that feeling of being grown up, with somebody beautiful that you're happy to be beside and all the world is in front of you.
i have been able to recreate this feeling more than once.  more than once i have looked at myself in a moment and felt that the entire world was possible, and that i was winning. it is usually when i have pushed myself into something new, stepped over a line, decided a new world for even just a short time.
Burning Man provides limitless possibilities for this feeling, and tries to extend it, keep it open, allow you to sit with it for as long as possible.  sitting on an art car at dawn, in your most beautiful clothes, with your most beautiful friends, watching the sun rise, smiling and drinking champagne, feeling invincible with the whole world on the horizon: what better place? what better sunrises?
we all want to linger there, in that feeling, forever.  but will i go back to burning man again to find it, or look somewhere else? right now, i don't know.
.::.
our photos + other photographic memories are being collected in my flickr favorites
Filed in autobiographical, burning man | Tagged with rumi
|
Comments (5)