February 12th, 2010
wo hand-crafted, heartfelt and artfelt events this valentine's weekend in SF that i will be at and if you're looking to ignore the traditional Vday hoopla and get out – coupled or alone – for some beauty, art and love, you should too:
SATURDAY 2/13

LOVING YOU: a gallery art party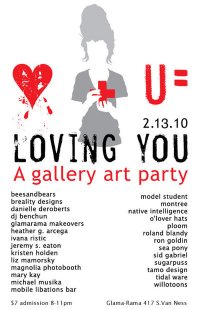 LOVING YOU is a gallery art party featuring love-inspired artists, designers, and performers celebrating that crazy thing called love.
While it is true that our photo booth has been known to cause makeout sessions with attractive strangers, that's not the only reason you should come to LOVING YOU. We also have the best last-minute valentine's shopping for you or your boo, including locally made gifts like lingerie, jewelry, hats, belt buckles, stuffed animals, mini flower vases, and even white lace MC hammer pants!
Come for the original artwork valentine you will get at the door, stay for the super cute performers, drink 'till your bold, get your tarot cards read and hey, while your at it, get your hair done! Then go home happy at midnight with someone on your arm and VOILA! it's a wonderful start to your Valentine's Day.
LOVING YOU features love-inspired artists and designers:
BeesandBears http://www.beesandbears.com
Breality Designs http://www.brealityrox.com
Danielle Deroberts http://www.onerary.com
Heather G. Arcega http://www.gingerbreadclothing.com
Ivana Ristic http://www.missingpieceproductions.com/ivana
Jeremy S. Eaton http://www.germsspread.com
Kristen Holden http://www.missingpieceproductions.com/holden
Liz Mamorsky http://www.lizland.com
MonTree http://www.montreedesigns.com
Native Intelligence http://www.rockitscienceSF.com
O'Lover Hats http://www.oloverhats.com
Roland Blandy http://www.rolandblandy.co.uk
Ron Goldin http://moonlid.com
Sea Pony
Sid Gabriel
Sugarpuss http://www.sugarpussclothing.com
Tamo Design http://www.tamodesign.com
Tidal Ware http://www.tidalwarejewelry.com
WilloToons http://www.willotoons.com
PLUS:
Glamarama Instant Makeovers http://www.glamarama.com
Magnolia Photo Booth http://www.magbooth.com
Mary Kay's Tarot Readings http://www.marykaymitchell.com
Mobile Libations Bar http://www.mobilelibations.com
Ploom Tasting Lounge http://www.ploom.com
Special Guest Performance by Ricochet http://www.ricochet.name
MUSIC PROVIDED BY:
8-9pm Michael Musika http://www.myspace.com/michaelmusika
"Valentines Day is love linked to commerce and some sort of catholic innuendo. I sing lots of songs about whores and ghosts."
9-10pm Model Student http://www.modelstudent.us/
Performing an all-acoustic set of "Songs of Love & Lust", a repertoire of songs spanning several continents and languages.
10-11pm DJ Benchun http://benchun.net
"When you're the dj you have one job. Your job is to make everyone go home and f*ck."
$7 admission .::. 8-11pm
@ Glamarama, Van Ness Avenue, 417 S Van Ness @ 15th, SF
<3.:.:.::.:.::.:.:::.::…:::..:::…:::…::::…:::::…::::….:::::…::::::<3
SUNDAY, 2/14
The third annual LoveSick fashion show
(you should click there and watch the video…)
If you can't cure the sickness, treat the symptoms this February 14th at Mighty.  You won't find a cure for your broken heart, however, if you drag yourself over to 119 Utah Street at 7p.m. you will find a plethora of palliative pleasantries.
LoveSick 3 will have a live musical performance by The Goldenhearts, DJs Irene Hernandez & Martin Collins, special performance by Bad Unkl Sista, trunk show, art exhibition, kissing/photobooth, and a raffle – all supporting the main event:
A smoldering fashion show of the latest in lingerie and fashion from amazing SF designers such as Alexandria von Bromssen, Miss Velvet Cream, My Dirty Dishes, Medium Reality, Richard Hallmarq, Miranda Caroligne, Kayo, Invisible Hero,  Ghetto Goldilocks, Tamo Design, Gelareh Designs, Jasmin Zorlu & more. There will be a special performance by Bad Unkl Sista & Collaboration Project with Alexandria von Bromssen.
come get your love on.
Filed in art, bay area gems, events, fashion | Tagged with badunklsista, gelareh, kayo-anime, lovesick, mirandacaroligne, missing piece, missvelvetcream, Tamo
|
Comment (0)