April 9th, 2003
Ressam Phididi
Ressam Phididi
Udera jaunki
Dandama Basaun
Ressam phididi
Ressam phididi
Ressam phididi
Ekuale banduk
Duinale banduk
Mirgalai Takeko
Mirgalai maile takeko hoina
Kanchhilai Dakeko
Ressam phididi
–traditional nepali folk song
::loose translation::
Wherever you go, I will follow you.
Like a butterfly; like cotton blowing on the wind.
Over mountains, through valleys, across rivers,
I will come to you.
Friday, Feb. 28th :: Leaving California for Nepal (day 01)
"I have the feeling that this trip is going to be a combination of a lot of really good luck and a lot of really bad luck," Jay says. This is after we woke up at 5:26 a.m. for a 6:40 flight. We were not allowed to check in for the flight because you have to check your luggage at least 45 minutes ahead of time. All Oakland flights out were booked, so then we had to drive (thanks to our ride and housesitter, mike hanley) from Oakland to SF Airport (about 35 minutes at that time of day) to try to catch another flight to L.A. in time to catch our connecting flight to Bangkok. After some further frustrating events at SFO, we got on an 8:45 flight to LA which arrived at 10:00, plenty of time to catch our 1:00 to Bangkok, but too late to meet up with Ariel for breakfast which we had planned. She had offered to pick us up and take us for a little jaunt over the beach for a quick breakfast before heading back to the airport since we originally had such a long layover. It would have been my first time meeting Ariel in person too, so I was disappointed about that. We then learned that our flight from LA to BKK had a one hour layover in Osaka, Japan, that we hadn't noticed before on our itinerary, and so we were excited to have a) a break in the 18 hour flight and b) to get to go to Japan! Well, at least the airport.
Once leaving LA, the sun never went down as we flew West and crossed the international date line, until 12 or so hours later we arrived in Osaka at 6:00 p.m. the following day, Saturday March 1st, and it was evening and finally dark. At the osaka airport we got our first jolt of being a foreigner when trying to determine how to use the phones to call our families to say that we had made it that far. We quickly gave up on that when seeing that they had these neat little stands with FREE internet access, so I just emailed everyone instead. Much cheaper and more convenient. Long live the internet! We then had a 6 hour flight to Bangkok.
Sunday, March 2nd :: LAX to BKK to KTM (day 02)
We arrived in Bangkok last night and stayed at the hotel airport as our flight to Kathmandu left early the next morning. Upon arrival shortly after 1:00 a.m., neither of us were tired so we got some french fries (only vegetarian food available) and then went outside the hotel around 2:00 a.m. into the streets. The air was warm and very moist, which for me was refreshing after being in that god-awful dry and bad smelling airconditioned airplane for so long. About 15 feet from the door we stopped to take in the surroundings, and I saw these little piles of something near the gate, and noticed they were quivering and moving. "what are those???" I wondered aloud. Moving closer, I could see they were dogs, curled up right there on the sidewalk and for whatever horrible reason quivering in their sleep.
We continued down the block for a ways, and saw so many other dogs just sleeping on the sidewalks; it really surprised me. The streets were also very dirty, and smelled strongly of rotten food and other unidentifiable scents. A large temple came into view, shimmering in the glow of the streetlights. As we approached the open gates, we were greeted by a large pack of these wild dogs, barking loudly, as if guarding the temple from intruders. We did not go in.
I decided that I didn't really like walking around BKK at night. We headed back to the hotel.
At the airport the next morning, we met up with most of the other members of our trek in the waiting area at the gate. I was kind of surprised … expecting a robust looking group of youngish hiking/trekking looking people, we met with a group of mostly middle-aged, divorced women who did not look like they'd ever spent a lot of time on ANY trail. Regardless, they were friendly and excited, and it actually took some pressure off us because we had been afraid of not being in shape enough to keep up with the rest of the group, who we had assumed with be workoutaholics.
The flight into KTM was magnificant. beautiful views of the Himalaya, including Everest, from the plane. It was weird to see the mountains tall enough to be equal to your line of site from the plane at 30,000 feet. Upon arrival in Kathmandu, we had to walk out of the airport into the parking lots before getting past security, and as soon as we were outside the gates, a swarm of young Nepali men surrounded us and started taking our bags. AFTER they get their hands on your bag they ask you where are you going. Our trek leader had to break it up and tell them all that we already had someone to take our bags and drive us, and the men slowly put down our bags and sulked away. That was our first introduction to the culture. The second was getting in the vans and driving through the streets of Kathmandu – streets without stop signs or sidewalks or street lights or pavement or any sense of order – a complete disregard for any and all traffic laws (if any), streets so narrow cars barely fit down them, horns beeping everywhere. We were taken to the Tibet Guest House for our two night stay in this city before heading into the mountains.

A few cultural notes for visitors of Nepal: people really do say "namaste" instead of hello and goodbye – it's not just something white people in yoga classes do. "namaste", in essence, means "I bow to the divine being in you." any time you pass someone on the street (or the trail) or make eye contact or approach a vendor, you both say "namaste". it's just an acknowledgement of their presence, unlike here in america where we rarely say hello to anyone even if they are looking right at us. and then, when leaving, "namaste". the slight bow of the head and folding of the hands into prayer position are kind of optional, unless you are meeting someone very important or of a higher social status than you are – then you have to bow and make the prayer gesture. it's very nice, actually, to be acknowledged and greeted by everyone who passes you. the other thing that was odd at first was that men and women do not touch each other in public – even if married. however, men walk around holding hands or sometimes with arms around the shoulders, they sit on eachother's laps, and to the western world this probably seems very homosexual, but as with many older cultures, the kinship between men is very strong here and they are not ashamed to touch eachother, unlike most of my male friends who would never, EVER hold hands in public.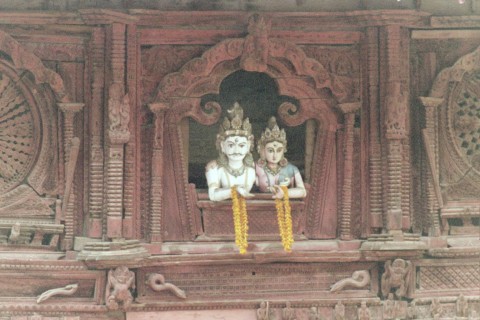 After arrival, we had time to wander around the city and were taken to some local temples. Kathmandu, although just as dirty as BKK, has a lot more charm and the people seem more friendly. A lot of music and socializing is present in the streets, an although some of the vendors are a little pushy, most of them were just smiling from their stoops as we passed by. Here, people seem to have little to do (or less than our north american "city folk", anyway), and a lot of people are just hanging out in front of stores or in front of their houses, watching the world go by. We visited a great number of temples and even saw a peace/anti-war rally take place on temple steps. It was really exciting to witness a totally different culture's way of protesting, and a feeling of hope knowing people all over the world were working toward peace. This march was probably about the problems between the Nepali government and the Maoists, but could also have partially been about world-wide events.
Kathmandu is the one of the most wonderful places i've ever been in my life: cows roaming wildly, the sounds and smells of the neverending street markets, incredibly cute children running everywhere without supervision, dirty as wild dogs and trying to sell you everything imaginable, mixed in with the monks and yogis with painted faces staring serenely at the sky. I would have loved to eat some of the wonderful food being prepared out of the 6x6x6 foot brick holes in the bottoms of buildings that functioned as kitchens and shops, but couldn't for fear of food poisoning (and of what they actually might be cooking). As a lover of Indian/Nepali/Tibetan food, this was very hard to ignore.
Monday March 3rd :: Sunrise @ Monkey Temple; City Tours (day 03)
We rose at 5:30 a.m. for a sunrise hike to Swayanabath, the famed "monkey temple", – which sits way up on a hill in the city (the views were incredible) and is both a hindu and buddhist temple. After a 35-45 minute walk through the dark, early morning streets of Kathmandu (where a surprising number of people where up) and then up the seemingly HUNDREDS of stairs, we reached the top sweaty and out of breath, but totally thrilled by the presence of all the monkeys. The mixture of people taking photos, the track-suit wearing local athletes who apparently run up the stairs every morning and were stretching and doing pushups, those saying prayers at the Hindu shrines and at the Buddhist ones, children, monkeys, chanting monks, and chirping birds made the whole place seem just magical.
The sunrise was absolutely bright and phenomenal — it was a perfectly clear morning for the sunrise.
afterward at about 7:00 we headed back down to the hotel for breakfast and then headed out for tours of other local temples and world heritage sites of interest.
We also visited Pashupathinath, one of the largest Hindu temples in the world and a very important pilgrimage site. The Bagmati river, considered holy, runs along the edge. Non-Hindu tourists are not allowed to cross the bridge to the other side, where sacred rituals and offerings are taking place. One of the things tourists come to see, and which I wasn't aware was happening until after we arrived, are the public cremation ceremonies. Older and sicker members of the community come to the temple to spend their final days, in a hospice environment, and then after death their funeral pyres are built upon the shores of the river. It was actually quite soothing, compared to the dark, dreary funeral traditions of the Europeans and here in the U.S. There seemed to be a great element of rejoicing, perhaps because of their hope for multiple lives, and there was a lot of singing and laughter going on, even as the fire was lit. It was a wonderful thing to see happen, such an important part of ones culture – how you treat your dead.
other interesting photos from the afternoon:
street sweeping girls;
cute boy at temple;
woman and baby;
women praying;
young monks with Nikes to match their robes
Tuesday, March 4th:: KTM to Pokhara to Dhampus
This morning we had to get up yet again at 5:30 a.m. for our flight to Pokhara, a smaller city a few hundred miles West of Kathmandu that will serve as the starting off point for our trek. The plane was small – only 15 seats or so – and the ride was at a fairly low altitude so we got great views of the terraced mountain farmland below and the mountains looming to the North, rising high above the cloudline. The terracing of the land from the air looked like some sort of abstract painting, or some kind of Andy Goldsworthy-esque type of natural sculpture. It was hard to believe the people had turned such harsh mountainous landscape into such a productive agricultural area, and imagining the amount of work that must go into that made my head spin.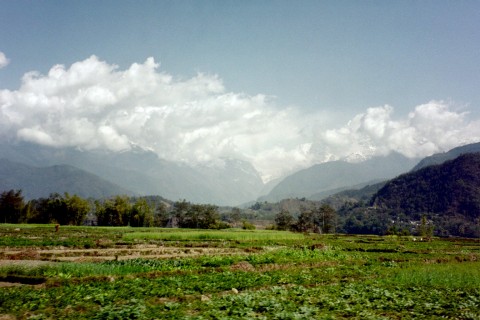 After landing, we then took a bus about 45 minutes to a trailhead just East of Phedi (elev. 3729 ft.). The trail was mostly rock-slab steps, rising ~1500 ft. in about 3 miles. Jay and I were fine going up – but some of the other members or our party really seemed to be struggling and were about 45 minutes behind us. The first few villages we went through were quite small, but the valley landscape was really beautiful, and the whole buzz of the start of the trek was just intoxicating. Farmers preparing hay, mule on the trail, children playing, buffalo peeking out from behind doorframes. We hiked slow, took lots of photos of the landscape and, to my joy, lots of animals. We reached the village of Dhampus – a hillside community that included a school and a VERY large white rooster – at around 12:30 p.m., and checked into our first lodge, where we spent the rest of the day.
After lunch, Jay, Zeb, Eric and I (the four youngest of the group) took off for a little walk through the village. School had just let out, and there were children in little blue uniforms everywhere– appearing out of the thick foliage on the sides of the trail, approaching us with giggles and then running away, eyeing us suspiciously as we passed. A group of teenage girls approached us, and seemed very interested in Zeb and Eric, although they didn't ask any questions or anything, just stood there in a little blue huddle and whispered to eachother and giggled. "I'm sure they're making fun of us," I said, noticing the looks the girls where giving us – apparently the judgemental gaze of teenage girls is an international phenomenon.
A little further down the dirt road that wrapped around the hillside, on the edge of a misty green valley a few thousand feet deep, two boys in blue approached us with a ball of rubberbands … that they were using to play hacky sack. They spoke very good British English, and were also very good at hacking. While Zeb and Eric and Jay had fun playing hack with them and having light conversation there on the mountainside, I stood aside and took some photos. That lasted for a good 15-20 minutes, maybe longer, we parted ways, and continued. Shortly afterward, we came upon a white building that looked like it must be a roadside shrine, and painted in red on the side were the words "Long Live the Maoists" . At that point, we decided to turn back, and on the way back noticed that the same thing was painted on the side of the school that we had passed earlier. We had been told about the Maoist rebels and the situation, and that there was a small chance of danger or, more likely, being asked to pay "fees" on the trail.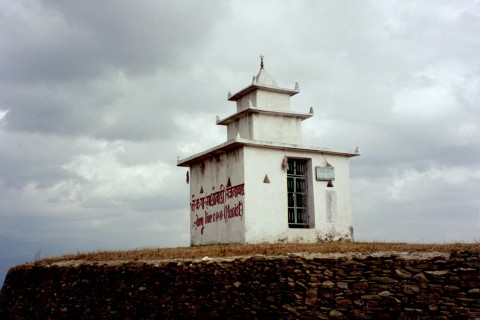 Back at the lodge, there were a lot of small children who came to check us out , and we had quite a bit of fun playing with them and entertaining them while they pulled everything they could out of us to play with and look at – watches, books, maps, papers, anything. I, in particular, was of interest, because I had a) a journal and a pen, and b) a National Geographic, which enthralled them. I sat and played with them for at least an hour or so before dinner, and in my handwritten journals there is a page where they each wrote their names (in Nepali) and then I wrote the English (phonetic) version next to them. Children had been asking us for pens in the city and on the trail, which confused us at first; they are apparently a very hot trading commodity among children. The children were extremely snot covered and dirty, but curious, friendly, and wonderful.
Wednesday, March 5th :: Dhampus to Landruk (day 05)
This morning we woke to absolutely stunning views of the high peaks of the Annapurnas. Yesterday in Dhampus, we could only see the "lower" mountains because of the clouds that form late in the afternoon – mornings are clear and later in the afternoon clouds form over the peaks. The "smaller" mountains are still as tall as or taller than the rockies, mind you, with deep river gorges in between. I woke up this morning at about 5:45 and gasped at the site of Annapurna South, glowing white through the soft dawn light(these photos really don't do it justice at all). The high peaks were only about 15 miles away but yesterday it had been so cloudy that they weren't visible at all. I really like getting up at sunrise – it's something I've always enjoyed … and hope when I return I am keep up the habit at least for a few days each week – it's one of my new year's resolutions after all to get up earlier and go hiking or to yoga or do something to make use of the time before going to work. It just feels so good.
At about 8 a.m, after breakfast, we headed North. The trail was slightly steep going up for the first half, and then extremely steep going down. We stopped in/went through several villages. On the trail, with no roads or cars or noises of "civilization", you start to feel as though you are in the middle of the wilderness, even though you are constantly passing by houses and farmers and farm animals and people, the lack of noise and traffic and cement makes you feel as though you are in the middle of nowhere. But then the houses and buildings grow closer together, chickens and donkeys appear, and suddenly you are somewhere. There's a lodge and a restaurant and a school, signs inviting you to come in and take a rest, all carefully written in English. We had excellent views of "Fishtail" mountain, or Machupachurre, and Annapurna South as we headed down the trail, our porters just ahead.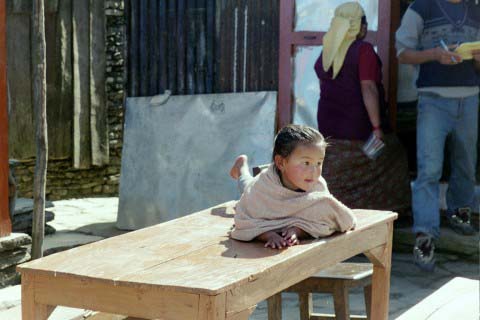 Apparently in some years, these trails see upwards of 60,000 trekkers. In 1999-2000, a Pakistani hijacked a plane (I don't remember hearing bout this but I guess it was worldwide news) from Kathmandu to India, and since then and since 9/11 only about 19,000 or so are coming through (# of trekking permits handed out). We haven't seen many trekkers on the trail at all, actually, and almost no Americans, if any. It seems to odd to be up here and have the lodges serving Cokes, Snickers, Beer and french fries, but I guess most Nepalis (at least though who leave near the trails and operate lodges) have learned to speak enough English to serve you and do other goods and services exchanges.
Other photos from Day 5: me on first of many sketchy bridges; shadow picture on sketchy bridge
Thursday March 6 :: Landruk to Jhinu (day 06)
This morning started off badly with the realization that we (Jay) forgot to bring the extra battery for our camera. It doesn't take regular AA or AAA; it's a special camera battery. I got really upset on the trail when we found out, and just couldn't help myself from crying because I was just so upset. I knew that there was nothing to be done, and jay kept trying to tell me how it was going to be alright, we would find one somewhere and the camera might not need the extra anyway, etc., but I just wanted him to shut up while I tried to calm down. I just felt like so much would be lost without the photos. I know so much of this trip will live in my memory anyway, and everyone else in our group will have photos to be shared, but nothing is like having your own photos to help with your memories.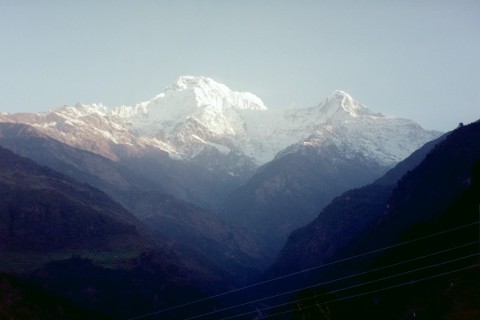 Today's hike was strenuous but beautiful. From Landruk, we went…. Down into the Modi Khola river valley …. Then up again ….then down again to the Kunrong Khola river valley, then up again… to Jhinu. On the Modi Khola, we came across remnants of what must have recenetly been some sort of river got ritual, as there were instruments and curious wooden figures lying next to a campfire in the streambed . We gained and lost a few thousand feet, but it was only 3.5 hours. After arrival, Jay, Eric, Maggie, John and I went BACK down another trail to the river valley to go to the hot springs. The springs bubbled up right beside the roaring river, and square cement tubs had been constructed on the river banks. They weren't HOT, but bathwater warm and refreshing after being fairly dirty so far on the trail. So far the promises of a solar-heated hot shower had not turned out to be so great. We were at the springs for about an hour and a half, soaking and talking politics, which got a bit old after a while and I just wanted to sit quietly and listen to the roar of the river and stare at the blue sky. Just the idea that I was sitting in a hot spring on a riverbank in Nepal was enough to keep me happy. But then the clouds started rolling in, and we decided to head back UP again for some dinner.
Tonight after dinner, we will enjoy a dance/music performance by the local women, which should be wonderful as I love local/folk music. Tomorrow we hike up up up to Chomrong (we were supposed to get all the way there today but because of our group pace we stopped here) and then have the option to hike further north on the trail toward Annapurna Base Camp (ABC) in the afternoon, which we will most likely do.
Friday March 7 :: Jhinu to Chomrong (day 07)
The dance/music last night was very entertaining and fun, although we were tired and danced a bit. They played outside under an awning (it started to sprinkle briefly). Interesting how the women and children piled into this little huddle/heap, playing their instruments and singing loudly, but barely raising an eye or moving, while the men got up and danced. It only lasted for about an hour or so; jay recorded with his mini-disc, and it should be an excellent addition to the memoirs. The main song that the porters and sherbas sing is the one that opens these journals – "Ressam Phididi". It was really funny for us when we got here and hear it, because one of our musician acquantances, Stuart Bogie, had used some of that song on a piece of music he did a couple of years ago that Jay and I both really love and listen to quite often. I didn't realize, though, that the song on his recording was a version of a Nepali folk song, and so was surprised to hear it again. Such little things make it such a small world sometimes. On Stuart's album, there is a child singing some "non-traditional" words to the song, singing "restaurant Pididi restaurant pididi I am a monkey you are a donkey restaurant pididi", and our staff thought that was pretty funny when we sang it for them that way. The translation I wrote above is a simplification; seems a lot of words in Nepali (as with many languages) have very long and complicated definitions and are not easily translated.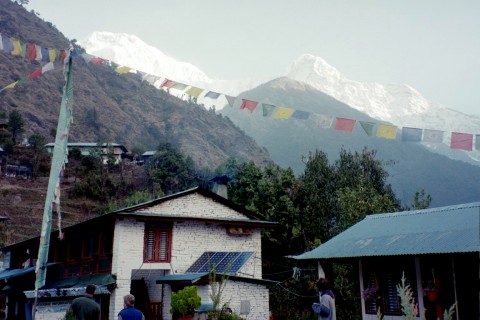 This morning was very clear, as the mornings have been, and the peaks that seemed so far away only days ago keep getting closer and closer. We at hiked up virtually vertical stone staircases from Jhinu to Chomrong, which only took about an hour and a half but it was literally about 100 flights of stairs (or more, who knows). We arrived at the lodge around 10:00 a.m . with a whole day ahead of us, so Jay, Zeb, Maggie, two of our sherpas, and I set off for that optional hike to a village that we could see across the valley, Sinuwa. Others in our group trailed behind, going at a slower pace and birdwatching. Down down down to a river valley once again, and then up up up(see my little dog friend in that picture? So many cute animals on the trails!). We had lunch at a village on the way, Maggie and her sherpa headed back, and jay and Zeb and I headed up to the final destination, Sinuwa, elevation 7722 feet. It was quite shrouded in clouds by the time we got to Sinuwa, and I'm sure the view on a clear morning is fantastic, but I thought that the mist and clouds rolling down into the valley were also quite pleasant, especially knowing what amazing peaks were hidden underneath (yes I know that this picture is super blurry, but whatever.)
It had taken us about 2.5 hours to get there, including lunch. I was feeling a bit dizzy – possibly from all the changes in altitude, possibly from the pure exertion of going up and down the valley walls so many times in the past few days. We were running down the trail on the way back down (it seems to feel better on the knees to move at a faster, almost jogging pace downhill) and I tripped, falling forward onto the stone. I slammed my wrists pretty hard into the ground ,and my knees also hit some of the rocks that were sticking up. I just barley avoided smacking my head. I got up quickly, a bit embarrassed and a little bruised, but fine to continue on. Getting back down to the valley was fine, but then on the way back up (AGAIN) to Chomrong, we really started to feel it physically. Toward the end we were all pretty damned exhausted, walking slowly up the stone slab steps. We brought the hard hike upon ourselves, but so far all the days had been so light and I personally really wanted to push myself and have at least one long, really rough day, and this was it. Looking back across the valley again to Sinuwa from the lodge, it looked a lot farther than it had before we left.
As far as the global situation is concerned, we are really not very aware of what has been going on with Iraq and the rest of the world; we only get small pieces of information here and there from other trekkers. I am glad to forget about it all for a while, and if there really is a "world war" going on, I think that right here is the perfect place for me to be.
Saturday March 8 :: Chomrong to Tadapani (day 08)
This morning started off kind of slow – I woke up around sunrise at 6:00 a.m. feeling like there were small bugs crawling all over me inside my sleeping bag – bad enough to the point that I actually got up and out of my bed. I guess my limbs must have been tingling from the cold and waking up or something, I don't know, but it freaked me right out. We also had a dicussion about fleas here last night, so maybe that was part of it. Anyway, after yesterday's strenous hike, today's start was rough and it took my body quite some time to warm up and I felt pretty crappy. Everyone else must have felt worse though, because I was ahead of everyone else in the group (besides John our trek leader) as we went from Chomrong to Chule, where we had lunch, and then from Chule up to Tadapani. From Chomrong, we walked on the ridge for a while through golden fields of barely, the sun shining through the clouds, and then descended again into the valley of the Kyumnu Khola (khola means "river") and then up up up to Chule for lunch. We reached Chule around 10:30, which is quite earlier than we were expected to arrive, and so had to wait until 11:30 for our food. I didn't really want to stop for that long because 1. I wasn't that hungry and 2. Stopping just made my muscles cool down and tighten/stiffen up again.
I could barely eat lunch, and as soon as we were done I took off up the hill again with John and just pushed myself up the trail. We traveled up through a very pretty rhododendron forest, thick with clouds, to Tadapani, which sits somewhere just above 9,000 feet.
Sunday March 9 :: Tadapani to Ghorepani
I think today's hike was the most beautiful so far – from Tadapani to Deurali, we hiked up through a wonderful river canyon (instead of down and then up the otherside as we have been) that was quite beautiful, with lots of smaller waterfalls and blue green pools; flowers growing out of rock crevices and patches of snow (this roll of film seems to be missing at this point – photos to be added later). The trees have slowly turned from low-elevation bamboos and palms to higher elevation pines and hardwoods.
Part of the way up the trail we met up with the Japanese trekkers again. This was the happiest group of trekkers I think I have ever seen. Every morning we see them starting out, shirts perfectly clean and pressed, lipstick and all, smiling and laughing. We usually get quite ahead of them, and then they catch up to us when we stop for meals. Every time, there is much laughter and smiling and hugging; they greet us as though we are long lost relatives, every time. and this time I was forced into the photos, along with anyone else standing nearby.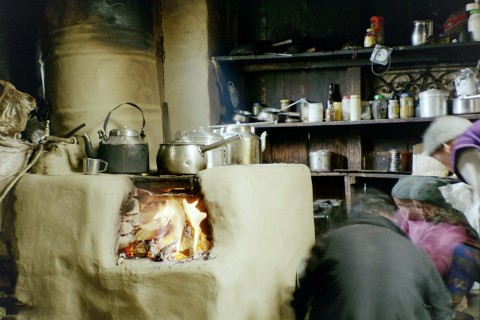 The canyon took about an hour and a half to get through, and then we had lunch at Deurali. The kitchens here are stocked with stainless steel pots, pans, plates, and utensils, and all the cooking is done over an open fire or in a wood heated stove. The vegetables are picked right outside the back door, and if you order chicken, well, they have to go out side and grab one. Lunch, for us, every single day, is Daal Baht very happy little girl hanging around us at lunchtime, and another nice dog. It was fun having so many dogs and children on the trails, as I have neither one to play with at home. Our porters played some rounds of "Ressam Phididi" and other songs for us, and then we were off.
From Deurali we hiked up a bit and got to a ridge line slightly above 10,000 feet. It was starting to get cold, even after we had just been in the warm valley that morning. Just then the clouds had started forming and blowing through, and as we walked through the rhododendron forest, waves of mist were swirling through the trees. It was very quiet and magical. Some of the group members didn't share others preference to hike silently – seems there are talking hikers and silent hikers – and we had to hang back from the group in order to get away from the chatter and to enjoy the whispering of the wind. So we walked very slowly, absorbing the atmosphere, knowing that photos would never do justice to the movement of air and light that we were seeing. I guess from up there on a clear morning, you can see 360 degrees; and some of the highest mountains in the world, but on that day we were shrouded in fog, confined to our small enchanted forest that seemed removed from the rest of the world.
continued here….
Filed in autobiographical, travel
|
Comments (6)